Waiting sucked, but wasn't it worth the wait?! After much anticipation, True Blood is back and it's better than ever! The show picked up where we left off last season with the murder of Eggs and the abduction of Bill. It takes off from there with multiple story lines all going on at once, taking us on a rollercoaster of suspense, sex, drugs and violence that us fangs have come to love. We witnessed the new addition of werewolves (take that Twilight - lol). We have this new character Yvetta, the Fangtasia dancer that the vamps can't get enough of. We also saw the return of the creepy Majester, who's pretty upset about the increased sales of V (vamp blood).
Here are my favorite highlights (warning: spoilers and loads of pics!) Steamiest Scene:
Eric's sex scene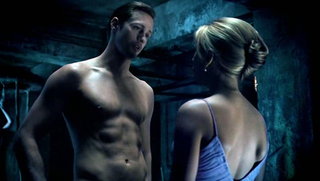 Did you have to ask? Eric in all his rear and nearly frontal glory had women every where screaming with delight! Sookie goes to see Eric in search of Bill, and Eric is her number one suspect. When she gets to Fangtasia she is greeted by Pam who informs her that Eric is indisposed. Thinking Eric is holding Bill hostage, Sookie runs downstairs by "overpowering" Pam. To our delight, and Sookie's surprise, she finds Eric sexing up the new Fangtasia dancer. She goes on to question Eric (while he is in the nude) and he tells Sookie that he did not take Bill because he's been down in the basement with the dancer for six hours! Her response leads me to my favorite line of this scene:
Sookie responds: "Doin' this? For the last six hours?!"
Eric: "You seem surprised. Is Bill's stamina not up to snuff?"
Wow - does it get any hotter than that? Don't worry fellas, you are not left out. Throughout this whole scene there is a naked beautiful dancer chained down and waiting for Eric to return to business. Wonder how much longer that went on?!
WTF moment: Bill and Sam's near kiss!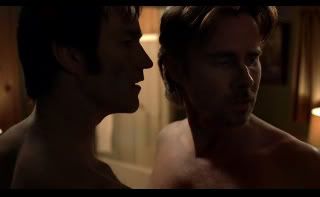 For those that have yet to see this episode - I did say Bill and Sam. it's not a typo. Talk about shocking!! Sam hits the road to find his real family, Bill finds him at a motel, and things get hot and heavy pretty fast. Bill invites Sam into the shower with him, while Sam removes his shirt. They draw closer to each other with lips nearly touching when the phone rings and...Sam wakes up. It was just a dream, but something tells me these erotic fantasies won't end here.
Favorite line is from Bill, after Sam agrees to take a shower with him: "I hear the water in Arkansas is very ... hard")
Goriest Scene: Bill's abduction.
Bill has been taken and held hostage as his attackers take him to destination unknown. As they are driving, his attackers begin to bite into him and enjoy V blood straight from the tap. At one point they even share blood by spitting it into each others mouths. Yuck!
The nastiest and funniest line in this scene comes from his abductors:
Abductor #1: "Pull over, Jimmy. I've gotta get me a drag off this f**k." A
bductor#2: "Nope, we ain't stoppin'." Abductor#1: "I'm dyin' over here."
Abductor#2: "Spit some in his mouth." A
bductor# 3"That's gay."
Abductor#1 "And playin' with your own tit in a car full of dudes ain't?"
Funniest moment: This comes from the dynamic duo that is Jason and Andy and also from a scene with Jason and two grads from NYU.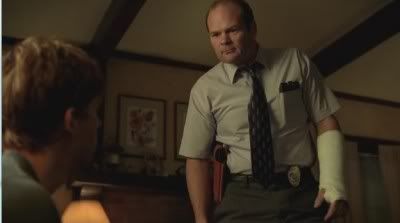 Jason is feeling guilty because he killed Eggs. Meanwhile, Andy just put his rear on the line and lied to the Sheriff and pretended that he killed Eggs in self defense. After Andy gives his false statement he goes to Jason's and tells him to snap out of his guilt trip or they could both face serious jail time. So, to get Jason out of his rut, Andy has him repeat the mantra: "Conscience off, d*ck on, and everything's gonna be all right."
After the funniest pep talk ever given, Jason goes off and meets two NYU students on their way to California while at the bar with Hoyt. Jason attempts to put the murder behind him and get on with business as usual, except that his junk has other plans. That's right – Jason Stackhouse can't perform! IT could be due to the fact that every time he looks at the girls, they have huge bullet holes on their foreheads. Not much of a turn on.
Life stinks: Jessica and her dead friend.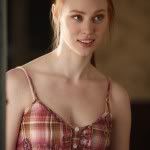 At the end of season 2, we saw Jessica digging into a guy in a truck. After she feeds on him, Jessica drags him to the house and tries to save him. He dies, so she hides him underground and tries to resuscitate him with no luck. Sookie keeps popping up and the smell is getting real bad. Jessica starts to freak out. Life stinks (literally) for this newbie vamp.
The "what a bitch" award:
It's a tie between the Tara and Sookie girl fight, and the Queen and Eric junk grabbing scene.
Tara/Sookie Girl Fight: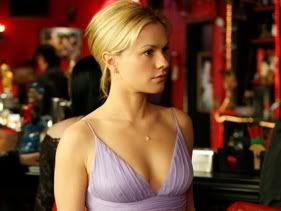 Tara attacks Sookie after she reveals that she helped Eggs remember what he did while possessed. Tara turns into a UFC fighter and tackles Sookie to the floor. Luckily for Sookie Lafayette is there to pry them apart. This leads to the smartest thing Sookie has ever done when she tells Tara to "Get the f**k out of my house." Hopefully she'll stay out. I am sick of Tara.
Eric/the Queen confrontation: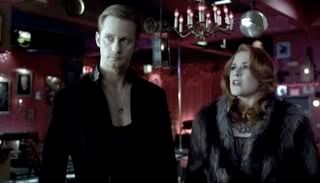 After the Majester tells Eric and the Queen to get some answers in regards to the increase of V blood sales, Eric begins to worry. He should since it is him and the Queen selling the V. Eric tries to reason with the Queen, but she's not having it and jumps on him, while she simultaneously grabs his crotch. This leads me to my favorite line in this scene by the Queen: "Hell hath no fury like a vampire queen broke". She tells Eric to sell as much of the product as he can within 24 hours. With a vampire grip like the Queen's on your manhood, all you can do is agree with her and move on. This leads to the next highlight.
Glad I'm not you award: Lafayette and Pam
.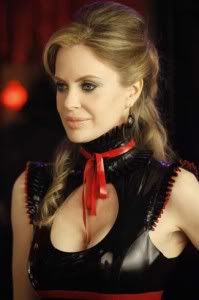 After the Queen goes completely crazy on Eric and demands that all the V be sold ASAP, Pam goes to her designated seller Lafayette to get the entire product sold by tomorrow night! Lafayette must have selected amnesia because he momentarily forgot he was talking to a vamp when he called Pam "hookah", but she reminds him that she is danger in a dress. This leads to another favorite scene of mine, when Pam tells Lafayette she's not a hooker (anymore at least):
Pam: "I don't know what it is about me that make people think I want to hear their problems. Maybe I smile too much. Maybe I wear too much pink. But please remember, I can rip your throat out if I need to, and also know that I am not a hooker. That was a long, long time ago ... you pickin' up what I'm puttin' down?"
Lafayette: "I is."
Get over: Tara's Breakdown.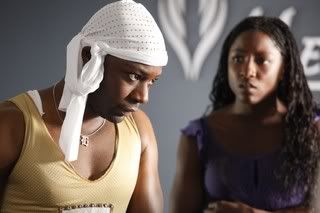 Tara is devastated over the loss of Eggs, and to make matters worse, her mother arrives with her reverend to bring salvation to Tara. At first, Lettie Mae appears to care about her daughter's welfare, but the only welfare she really cares about as that of the reverend. Does that woman have no shame?! Tara tells her mom that she's going to take a shower, shuts the door, and downs a bunch of pills. Unfortunately for me and the many Tara haters, Lafayette shows up and will most likely save her since she is in a bunch of previews. Too bad! I am sick of Tara and her dramatics.
Jerry Springer Moment: This goes to Arlene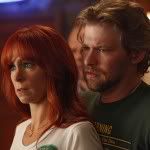 Arlene is pregnant! No, she didn't need to take a pregnancy test to know this. She smelled a pinch of cinnamon that is usually undetectable…lol. Now the question is: Terry, are you the father of the baby?
What did you think about True Blood's season 3 premiere? What were your key highlights?!Leave me a comment and/or take the poll on the left to let me know!