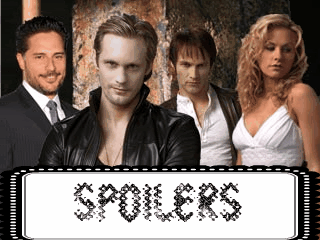 It's True Blood spoiler time. If you hate knowing the ins and outs of what's to come, then please stop reading. For those that can't wait for the next episode, keep reading!!
There are only 3 episodes left, but they're going to be 3 of the best ones yet. Here is what we can expect:
Russell goes on a killing spree - big surprise there!
Mr. Goodie aka Jesus starts doing V
Sam turns to the dark side, and some ugly memories are waiting for him
Jessica is torn between Tommy and Hoyt.
Someone gets shot, and Sam's the one doing the shooting.
Arlene breaks the news to Terry. Terry you are not the father.
Tara finds out that Sam's a shapeshifter
Lafayette starts getting visions and turns to Jesus for help.
Sookie rethinks her relationship with Bill, and considers giving up on vamp romances period. Hmm, I know a hot werewolf you may like. His name is Alcide :-)
Want more TB? You got it. Here's the latest synopsis to the last 3 episodes. Remember, True Blood season finale airs September 12th. I'm already dreading my Sundays without Eric...um, I mean Alex, oops...True Blood; Yes, that's what I meant :-)
Season 3, Episode 10 – Airing: 8/22/2010
"I Smell A Rat"
Sookie is warned about the dangers she will have to deal with. Dark memories surface for Sam. Arlene must ask Holly for help while Jason faces unexpected dealings with Tara and Crystal. Jesus' interest in V's qualities is aroused. Russell vows to inflict punishment on his enemies. After precautions, Eric satisfies a wish.
Season 3, Episode 11 – Airing: 8/29/2010
"Fresh Blood"
Bill wants to earn back Sookie's trust but once again brings her close to danger. Eric tempts Russell with the "ultimate vampire dream". Jason tries to comprehend what he's learned about Crystal. Sam alienates everyone but Tara. Jessica and Hoyt take their romance up a notch. Lafayette struggles
Season 3, Episode 12 – Airing: 9/12/2010 SEASON FINALE!!
"Evil is Going On"
Sookie gives careful consideration to a life without vampires of any kind. While secretly planning a perfect payback for Russell, Eric deals with his feelings of right and wrong. Tommy's latest overstepping boundaries leaves Sam in a rage. A new vocation is in store for Jason after he warns Crystal's family about a potential drug raid. Jesus has something more to offer than just an interpersonal relationship when Lafayette comes to him for help. Hoyt ignores his mother and entertains plans for a future with Jessica.
Wait, I'm not done. That's all I have about season 3, but I have some spoilers for season 4. That's right! This season is still going strong, and season 4 spoilers are already coming to light. What do we have to look forward to? Let me tell you!
Season 4 Spoilers
Alan Ball is throwing season 4 to the witches! Yay, witches are so bad, and I love them. One witch in particular is coming to town and her character's name is Hallow. If you read the books, then you are dong your happy dance because this means the witch war is on. The fourth book is the fan favorite of Charlaine Harris's Sookie Stackhouse novel entitled
Dead to the World (Book 4) [Southern Vampire #4]
, and Alan Ball is taking note. Mr. Ball describes Hallow as "actually a medium. She communicates with the dead, and she's interested in developing further powers." She is describes as a tall, trim brunette. I'll dye my hair, wear high shoes, and go to the gym - Please cast me as Hallow!! Hallow is not the only witch coming to town. As I said before, there is going to be a witch war that is going to seriously impact the relationship between Sookie and Eric. I can't wait! The new character, Holly, that was introduced this season is also set to star in season 4. In the books Hollow was a witch. As for the tested and true characters of True Blood, many are going to show new powers that they possess, some our fave characters didn't even know they possess. Wow, Is it June 2011 yet?
What are you most looking forward to in future episodes of True Blood? Should Sookie walk away from vampire relationships?