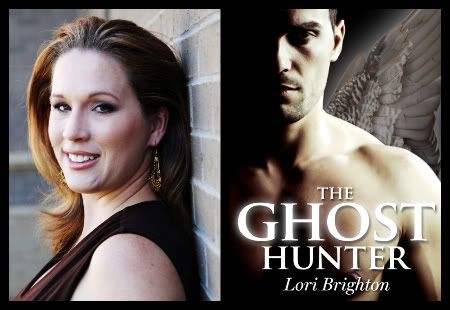 Paromantasy is shining the spotlight on author Lori Brighton. Lori is the author of contemporary paranormal romance novel,
The Ghost Hunter
. This novel follows the mystery surrounding Ashley, a person who just wants to be normal and fit in - the only problem is that she can see and talk to ghosts! As she tries to uncover the truth surrounding her past, she in thrown into a world filled with ghost, witches, angels, demons, and powers beyond your wildest dreams! I am currently reading it, and it is an engaging book that is filled with mystery, suspense, and sexual tension. It keeps you on your toes and racing through the pages. Look out for my review on Monday. Can't wait to read it? View giveaway details at the bottom of the article for a chance to win an e-copy! I was ecstatic when I was invited by Lori to do a Q&A with Paromantasy about her life, her book, and what it means to be a writer.
Let's give a warm welcome to Lori Brighton!
Tell us about yourself.
I went to college for Anthropology and ended up becoming a Natural Science curator at a museum. A few years later we moved and there was really nowhere for me to work, so I decided to try writing. Although I'd always loved reading romance novels, I started out writing a few nonfiction articles for Wild Bird magazine. A little while later I moved onto fiction.
When did you know that you wanted to be a writer?
Not until I was in my twenties. I'd always had a huge imagination; I loved television and reading. But I hated English class in school and the many rules that came with writing. So I certainly never considered myself a writer. When I was in my teens I fell in love with romance novels. I decided to give it a try and write my own book, mostly to get the many stories I'd imagined out of my head. Once I started, I couldn't stop!
Where did you get the idea for The Ghost Hunter from?
Ohhh, good question. :-) It was while on the Haunted Mansion ride at Disney World. We go there a lot. It's one of our favorite places. Since I'd been on the ride quite a few times, my mind was wandering. lol. I imagined a woman inheriting a haunted place, but instead of being terrified of her ghosts, she was more annoyed with them.
Do you have anything in common with Ashley?
Another good question! Hmm, well, she has this fear of living a clichéd life in the suburbs and I do as well. She can also be a bit sarcastic at times and I can as well. Like Ashley, I think we've all had the feeling of not belonging at one time or another. And on a more personal level, my father wasn't in my life much while I was growing up, so we definitely have that in common.
Are your characters based on people you know?
No, not really. There might be little characteristics I will pick up from people and use. I also might use actors as a basis for looks and attitude, but never completely.
Did you do much research for your book?
Not nearly as much as I do with my historicals! Because it takes place in England, I had to research the area. Mostly I had to research the celestial and religious aspects of the book. But yeah, like I mentioned above, it wasn't nearly as much as I do with my historicals.
Who are some of your favorite authors and why?
My favorite romance author will always be Julie Garwood. I started reading her historicals when I was sixteen and I completely fell in love. There was so much suspense and emotion. The romance was to die for! I'd stay up all night to read her books.

As for a different genre, I love the magic of the Harry Potter books. When I read those books for the first time they make me feel like a kid again, like anything was possible!
When I was young I loved the Anne of Green Gables series, my first foray into romance with Anne and Gilbert. I also loved the magic in The Chronicles of Narnia series.
My favorite classic would have to be Jane Eyre; very romantic, very gothic and mysterious… everything I love!
What books are you reading now?
I'm actually reading some Self published books, both by friends: H.P. Mallory and Edie Ramer. As for printed books, I just finished Victoria Dahl's Crazy for Love. Was very good! And I'm starting Last Vampire Standing by Nancy Haddock. I went to the Romance Writers of America Conference this year and got bags full of free books. Honestly, it was the best part of the conference. lol. So I have plenty to read, I just need to find the time!
Are you working on any other projects we should watch out for?
My debut book, a historical romance called Wild Heart, was released in November of 2009. The second book in the series is called Wild Desire and will be out in March. I'm actually working on the copy edits for Wild Desire now. It's a super fun and adventurous book. I'm really excited about it. I also have a young adult book that's with two editors right now. I'll let you know if it sells. If not, I'll definitely self publish it.
What made you go the Self Publishing route?
Quick answer, I was tired of waiting around for editors to decide if they wanted to buy my book, only to then reject it. As for The Ghost Hunter, one editor said they didn't buy books with ghosts. So that publisher was out. Another editor had the book for a year, yes a year! So while I was waiting months and months for editors to decide if they wanted The Ghost Hunter, some friends of mine started self publishing and making money, decent money. Since The Ghost Hunter was just sitting on my computer, I figured why not try self publishing it?
If you had to do it all over again, would you change anything in your latest book or publishing experience?
No, I don't think so. I try not to dwell because really you can't change the past. You know? But I guess if anything, I wish I would have started writing at an earlier age.
What do you do when you are not writing?
I love to travel, usually to the beach. I love wildlife and as I mentioned, was a natural science curator for awhile. As a family, we go hiking a lot on the weekends. I love watching T.V., reading and art (painting, drawing and photography).
Do you have any advice for other writers?
Best piece of advice is to never give up! If you want it bad enough it will happen. Some people are published in their first year. For others it can take twenty years. For me it took about seven. And there were many times I wanted to quit. But if I would have, I wouldn't be where I am now.
Tell the readers what to expect from The Ghost Hunter.
I think it's a sexy read with suspense, humor and of course paranormal. Even if you don't like paranormal, it's worth getting a copy of the book just so you can have a picture of the cover. The guy on the front is hot! I found him on Istock :-)
Totally random question: If you could be any supernatural being, what would it be?
A being? Hmm, I'm not sure. Maybe someone like Buffy the Vampire Slayer. I loved that show! Hasn't been a show like it.
Do you have anything specific that you want to say to your readers?
First, I just want to say thanks to you, Evie, for letting me take over your blog for the day. Authors are pretty much responsible for their own promoting. They can spend thousands of dollars on ads in magazine and on websites. But what works the best is word of mouth. So please, if you like a book, recommend it to your friends!
With that said, I just want to say a big thank you to everyone who has been so supportive of me, whether they're helping me promote a printed book from a New York publisher, or a self published book. The people I've met online are amazing; wonderful women who take time out of their busy days to help me succeed. You don't know how much that means to me!

Lori Brighton has proven to be a wonderful person and a great writer. Do you think Lori is as awesome as I do? I got the perfect solution, follow her! Not literally people - that's stalking! She can be reached at the following links:
Website
Blog
The Ghost Hunter is a book that will take you for a ride, so grab your seat belts and hang on. It's filled with twists, turns, and steamy romance that will have you hoping that this book will turn into a series - hope you're reading this Lori: hint, hint :-). Two lucky winners will win a copy of
The Ghost Hunter
. Here's how it works. Follow me and leave a comment below with your name and email address before Sunday, Sept 26th midnight. On Monday, Sept 27th, two winners will be chosen and announced. The winner will be picked at random. Want extra entries? No problem! Just remember to leave comments with links below for each new entry! You will get extra entries for each:
Publicize this giveaway, then come and leave another comment with the link
Tweet about this giveaway and/or Lori Brighton with a link to this article, then tell us about it
Blog about it! Add a link to this article and Lori Brighton's book to your blog.
Become a fans on Facebook
Follow us on Twitter
Add The Ghost Hunter to your TBR pile on Goodreads, and let me hear about it
Good luck! I know you are going to love her book. Check back for my review of The Ghost Hunter! Let the giveaway begin!!