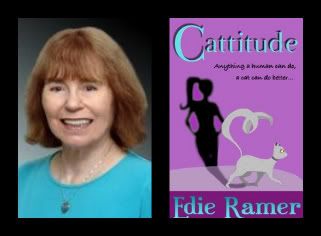 Paromantasy is shining the spotlight on an amazing and uber talented paranormal romance author, Edie Ramer. Want to know what you would get if paranormal romance met Chick-Lit? You would get
Cattitude
! This book has it all! It's quirky, fun, dangerous, mysterious and is a total attention grabber. I could not peel myself away from this book! Sacha Anders is a psychic on the run after being a witness to murder; Belle is a cat that has it all, especially with an owner as glorious as Max. But when Caroline, a conveying widow, decides she wants Max as her future husband she decides that the cat must go! When Sacha and Belle's worlds collide- their lives are changed forever! They switched bodies and they don't know how. Belle finds herself in a human body and falling in love with her former owner and now savior Max. Sacha can't stop her new cat impulses, especially with an adoring owner who gives her the love and security she never found in her human form.
Edie is in a class of her own. This book is so unique, clever, intriguing and well-written that I can honestly say that I have never read a book like it. Cattitude is a definite must read and Edie Ramer is an author to watch out for. Guess what? Edie is giving away 3 e-copies of Cattitutde! See below for your chance to win this amazing book. Check back tomorrow for my review!
Let's give a warm welcome to Edie Ramer!
Tell us about yourself.
I'm a classic Libra. I want everything to be balanced and beautiful—which doesn't happen in my life or my characters'. I'm the middle child of 5, so I'm a peacemaker yet I'm assertive. (And I'm sure my younger brother would dispute the "peacemaker" statement. My husband might give me his "look." lol)
I started writing in the 1990's, selling short stories in the mystery genre. In addition to non-fiction articles, I wrote verses for greeting cards and have a drawer filled with greeting cards for most occasions.
When did you know that you wanted to be a writer?
I was reading by the time I was four. At the age of eight, I was reading my mother's books. I was also a daydreamer. Combine those two, and I was a writer but didn't know it. One day my husband came home from work and told me he'd lost his job. As if something switched on in my mind, I started writing a book that night. Which I never sold, of course. It was a good thing he found another job. But that's how I began.
Where did you get the idea for Cattitude from?
We'd always been dog people, and for the first time we'd gotten a cat. I didn't expect to fall in love with her, but I did. She sits on my lap often when I'm typing, purring. I think she's sending me subliminal messages: "Me, me, me, it's all about me."
I love quirky characters and a cat heroine is about as quirky as I could get. So I went with it. From the beginning, it felt right. I think I was channeling my inner cat diva.
Who are some of your favorite authors and why?
This is tough. There are so many great authors. I love all of Jayne Ann Krentz's books, in all her pseudonyms. I think J.K. Rowling is a genius! When I read the last Harry Potter book, I was dumbfounded at the way she tied up all the loose ends. Just brilliant. In paranormal/urban fiction, Charlaine Harris, Cynthia Eden, Jennifer Estep and Karin Harlow are all terrific. My critique partner Michelle Diener is one of the best writers I know. Her Tudor historical, Illuminations, will be out late next spring. It's based on real people, and it's a page turner.
What books are you reading now?
A Victorian romance,
Wicked Becomes You
by Meredith Duran, which is very good. I just finished a YA,
Only the Good Spy Young
by Ally Carter. It's the fourth in her Gallagher Girl series, and it's excellent.
Are you working on any other projects we should watch out for?
Dead People, which was my American Title V final book, should be out in a few weeks. It's about a brooding songwriter who wants to give his newly found daughter a normal home—only to discover his new house is haunted—and a ghost whisperer who thinks men are hard and dead people are easy.
A friend who's a former English teacher is copy editing it. As soon as I get it back, I'll make changes and put it up. I plan on putting up a free short story at the same time. The main characters are lesbian ghosts, and it was originally published in the Fourth Women Sleuth Anthology.
If anyone would like to be informed when it's out, please go to my website and sign up for my newsletter.
http://edieramer.com
.
What made you go the Self Publishing route?
I've been writing professionally since the 1990s and knew I had the chops. I was winning contests and getting requests. I've had four agents! I've come so close to selling, but it just didn't happen. Zoe Winters was my friend before she self-published two years ago, and her success inspired me. Once I made the decision, I knew it was the right thing to do. I'm empowered now. I love that.
If you had to do it all over again, would you change anything in your latest book or publishing experience?
I would do it sooner. Otherwise, I wouldn't change anything. It's a learning experience. Every day is a learning experience for me.
What do you do when you are not writing?
Walk the dogs. (We have two.) Pet the cat. Spend too much time on email and, lately, Facebook. Of course, I read. I have favorite TV shows, but I'm picky. I like to cook, I hate to clean. And I spend time with family and friends.
Do you have any advice for other writers?
Write, write, write. Read, read, read. Get a critique partner who's as good a writer as you or better.
Tell the readers what to expect from Cattitude.
Cattitude will make you smile, give you a few chuckles, and maybe even a tear or two. Most of all, it will leave you feeling good when you finish, a warm glow that stays with you a while and comes back whenever you think of it.
Do you have anything specific that you want to say to your readers?
First, thank you so much for having me at Paromontasy! I appreciate so much that you had me as a guest and helped me get the word out about Cattitude.
I love readers! I'm one of them. I appreciate everyone who reads my book. I get the best feeling when a reader emails me to tell me how much she (or he) enjoyed Cattitude, or when someone puts a great review up about it. I used to think it didn't matter. But now I know it matters tremendously. Cattitude is only $2.99, and I hope everyone who reads it loves it.
Edie Ramer is a wonderful writer and person! If you agree, then follow her! Thanks to social media there is no stalking neccessary :-)
You can find Edie on:
It's Giveaway Time!! Edie is giving away 3 e-copies of Cattitude! Three luck winners will be chosen at random on December 11th. Here's how it works. Follow me and leave a comment below with your name and email address before midnight of December 10th.
Want extra entries, no problem! Just remember to leave comments with links below for each new entry! You will get extra entries for each:
Publicize this giveaway, then come and leave another comment with the link
Tweet about this giveaway and/or Edie with a link to this article, then tell us about it
Blog about it! Add a link to this article and Cattitude to your blog.
Become our fans on Facebook
Become our friends on Goodreads
Follow us on Twitter
Add Cattitude to your Goodreads TBR list
Good luck! I know you are going to love her book. Come back tomorrow for my review of Cattitude!