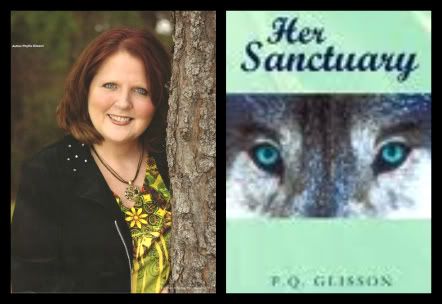 Paromantasy would like to shine the spotlight on P.Q Glisson. She is the author behind
Her Sanctuary
, her debut novel that is in stores now. I have started reading it, and it is an absolute page turner! Stay tuned for my review next week. Click
here
for an excerpt of
Her Sanctuary
from Amazon.
Phyllis was kind enough to do a Q&A with Paromantasy about her life, her novel, and what it's like to officially be a published author.
Let's hear it for P.Q Glisson!!
I am a 51 yr old wife and mother to a beautiful and talented 22 yr old. I've been happily married for 29 yrs. After graduating from private school in 1977, I had a few short term jobs until I found employment in the banking industry where I worked for 17 yrs. After leaving the banking industry, I worked several different jobs. In 2002 I went to work for a construction company as the office manager. In 2008, I became a casualty of the housing market when the company I worked for went under. Finding myself without a job for the first time, and no opportunities in sight, I turned to my long hidden creative side and started painting. I found that I had a talent for it and managed to make a little money doing commissioned work. About a year later, I was brainstorming story ideas with my daughter when I came up with what would become Her Sanctuary. We were supposed to work on it together but due to personal circumstances, she was unable to continue so I went on alone.
What inspired you to write your first book and what was your motivation behind it?
The idea behind my book could only be accredited to divine inspiration. My motivation was boredom. I know that sounds too simple but it's true. I suppose I've had the ability all my life but boredom was the catalyst that motivated me to take something I had only imagined and making it a reality.
How did you come up with the title?
I was batting around a few ideas for the title. When I told my daughter, we just threw our thoughts together and between the two of us, we decided to incorporate the name of the town into the title. Her Sanctuary took on a double meaning. I love it when a book title has more than one meaning.
Is there a message in your novel that you want readers to grasp?
The message in my book is all about love and its power to heal the broken hearted and redeem the wounded soul. It shows that with love, anything is possible.
Are experiences based on someone you know, or events in your own life?
No. Everyone and everything in the book is fiction, a product of my overactive imagination.
What made you go the Self Publishing route?
I had researched and found that without an agent, a major publishing house wouldn't even crack the seal on the envelope. I found that agents are few and far between and the ones that weren't trying to cheat you, were in such high demand that it was virtually impossible to find one. I then found out about self-publishing companies. I have to admit that I was very naive when it came to the publishing process, so I went through one of these 'self-publishing' companies. I really can't complain. They did everything their contract said they would do, but their percentage of the profits is extremely high so the next time I publish, I will either have an agent or I will self-publish through amazon.com or smashwords.com. I already have the knowledge to format my manuscript into Kindle and ebook, so it should be fairly easy.
Who are some of your favorite authors and what is it that really strikes you about their work?
The very first author I fell in love with was Kathleen Woodiwiss. She was great and introduced me into the world of romance novels. After her I would have to say Stephen King. I loved the way he could make you laugh one minute and make you cringe the next. It wasn't just his stories I loved so much. It was his style of writing; the way he could turn a phrase, pure genius. Robert R. McCammon reminded me a lot of Stephen King with his writing style. His book "Mine" freaked me out but kept me turning the pages just to see what would happen next. Eugenia Riley is a wonderful romance author. I discovered time travel romance thanks to her. There are many more but I would be remiss if I didn't mention the queen of young adult fantasy romance, Stephenie Meyer. Yes, I admit, I'm a Twihard fan. Yes, I have read the Twilight sagas at least twice. What can I say?
What book are you reading now?
The Body Finder. I just finished "Angel Star" by Jennifer Murgia, also a debut author.
What are your current projects?
I am currently working on a contemporary young adult fantasy romance/mystery and also a period romance set in pre-civil war. You can read excerpts from them on my profile at goodreads.com
If you had to do it all over again, would you change anything in your latest book?
Yes. There is a part where Seth has carved a phoenix as a gift for Shannon. I had planned on it becoming a symbol of how she had risen above her situation and managed to make a new life for herself. In the epilogue, I was going to have the carving hanging from her rearview mirror, but to tell the truth, I completely forgot about it so it never makes an appearance in the story. Oh well, I guess I could knit pick it to death. Lol
What was the hardest part of writing your book?
Finding enough hours in the day. Sometimes I would write until the wee hours of the morning when a particularly good idea hit me. I just couldn't seem to get it all out fast enough.
Did you do much research for your book?
The only research I did was making sure there was no town in Arizona with the name "Sanctuary" and I googled the geography of the state of Arizona to make sure there were forests, which there were. I also researched the Indian Reservations and tribes of Arizona.
Did you learn anything from writing your first book and what was it?
I learned that you have to be very careful what method of publishing you use. I learned about outlines and formatting and amazon.com and smashwords. I learned that just because your computer tries to tell you something is wrong with the wording or the punctuation, it doesn't always mean it's wrong. I learned there are tons of aspiring writers out there who are dying to get published but like me, they have no idea how to go about it. I have met and befriended many of these future authors. It's a whole other world I never even knew existed.
Do you have any advice for other writers?
Yes. Research, research, research. Know as much or more than the publishing companies and agents. There are too many scams out there just waiting to take advantage of some ignorant first time writer anxious to publish.
Do you have anything specific that you want to say to your readers?
Just that I pray they will love my little story; that it will find a special place in their hearts and they will want to read it again and again. When one of my readers tells me that they are reading it for the second time, it makes my heart swell with pride. That is truly a wonderful testament
.
Not only has P.Q Glisson proven to be a great writer, she is also a wonderful person. I had the honor of meeting her via goodreads, and I want to congratulate her on her new novel! Click
here
to find out more about P.Q Glisson and her debut novel
Her Sanctuary
that is in stores now!
If you think Phyllis is awesome like I do, have a question, or just want to tell her what you thought of Her Sanctuary, leave a comment below!