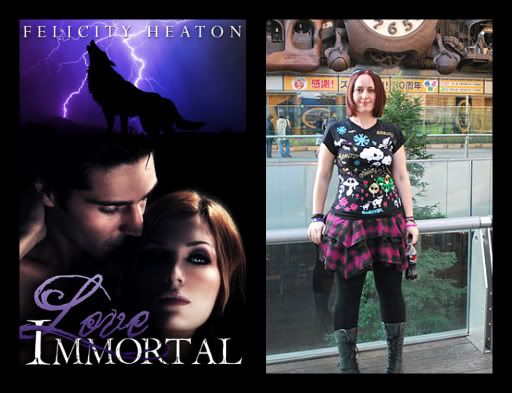 Paromantasy would like to shine the spotlight on paranormal romance writer Felicity Heaton. She is the author of, Lover Immortal, an action-packed, romance filled, completely unputdownable book about a normal girl whose only desire was to find meaning in her life. She gets the answer to that when she's attacked by werewolves, is rescued by a hot Immortal, and is told that she is an reincarnated goddess who's mission is to kill Lycaon, the King Wolf – yup, just a normal day in the neighborhood. This book can be summed up in one word – Amazing! Click
here
for the first few chapters. Check back tomorrow for my review. Felicity Heaton, who is sweet and all kinds of awesome, was kind enough to take out of her busy schedule to stop by Paromantasy and talk to us about her life, her books, and what supernatural she would be if life was anything like her books.
Let's give a warm welcome to Felicity Heaton.
Tell us about yourself.
I'm Felicity Heaton and I'm a paranormal romance and science fiction romance writer. I mostly write paranormal romances, penning the Vampires Realm series under my alternate name, F E Heaton. I enjoy writing series, and have several that are either ongoing or complete, but also write stand alone short stories, novellas and novels.
When did you know that you wanted to be a writer?
Back in my secondary school (like high school) I wrote the opening chapter of a gothic horror novel for my English class. I enjoyed it so much that I went on to write several more chapters and outline the story, but then I drifted away from it when school work became more demanding on my time. I've always read books, devouring classic romance novels as a teen, and always daydreamed about vampires and werewolves. In 2003, I started writing fan fiction, and in 2005 I progressed into writing original fiction and haven't looked back. I've been an indie author since 2006 and in that time I've written over 40 stories.
I loved how you incorporated everything from gods and immortals to humans with powers. Where did you get the idea for Love Immortal from?
I had the idea for a story where the hero was immortal and many millennia old, and the heroine was a goddess who was reincarnated each time she died. The hero had to find her each time and reawaken her immortal side, and her powers, by giving his blood to her before she died. I wanted to re-write the myth of vampires from scratch, and while the hero and heroine aren't strictly vampires, there are vampires in the novel too.
I was researching ancient Arcadia when I came across the tale of Lycaon, a king of Arcadia who tricked Zeus into eating human flesh at a banquet. Zeus punished him by turning him into a wolf. If Lycaon abstained from eating human flesh for ten years, he would become human again. In my story, Lycaon embraces his new wolf side and it brings him powers of immortality and incredible abilities. He's intent on gaining revenge on Zeus for what he did, and Lauren, the heroine in the novel, and Julian, the hero, have to stop him before he shakes all Olympus.
Which character is your absolute favorite and why?
In this story, I love Julian. Julian is both strong and intensely vulnerable. He's been around for over three thousand years and has watched countless incarnations of the woman he loved, Illia, die in his arms. He's been alone but not alone for all that time as none of the incarnations of Illia have loved him. In fact, they've all bound him with rules that threaten to break him, starving him of physical and emotional contact with them and anyone. He's a caged soul, imprisoned by his duty, and has been through some terrible events that have shaped him, and not always in a good way. He's a little broken, but stoic enough to continue the duty he holds dear, even when he has lost all sense of feeling. When he meets Lauren, the latest reincarnation of Illia, and rescues her from werewolves, he slowly comes to realize just what the other incarnations have done to him, and how different Lauren is to any of them, even Illia herself. I think he'll appeal to readers because he's so strong and heroic, protecting Lauren at all costs, but he's also fragile and he's very weak for her. He needs her more than anything but he's afraid that she's only going to break his already shattered heart into even more pieces. I think readers will love him for that frailty and for the fact that he still tries, and risks everything by falling for Lauren. I think they'll love him even more for his strength though, and how hard he tries to protect Lauren and stop her from falling prey to the same fate as the other incarnations.
Are your characters based on people you know?
No, not really. I sometimes take facets of people I know and use them, but I don't think there's any of that in this one, although I do like to say that all of my heroes are based on my husband.
Did you do much research for your book?
Other than researching about Greek mythology and the Titans, I didn't need to do much research for this one. I did have to plan out the locations and settings though, and that meant researching the Arcadia area of Greece too. I've been to Paris, and I work in London, so writing about those two cities wasn't difficult, but Greece needed to be researched, so I had to spend time looking at pictures of the area and reading about it.
Who are some of your favorite authors?
I adore anything by Terry Pratchett, and love the classic romance authors such as Jane Austen, Charlotte Bronte, and Elizabeth Gaskell. I also love authors like Lara Adrian, Sherrilyn Kenyon, and used to be an avid read of J R Ward books.
What books are you reading now?
At the moment, I'm not reading anything, but I was given a stack of books for Christmas that I intend to read this year. Because I work full time and write the rest of the time, I don't get much of a chance to read novels, which is a shame because I love to indulge in a good book. Hopefully this year I'll be able to find more of a balance and will be able to get through the 16 books on my TBR pile!
Was writing and publishing your book exactly how you imagined?
Publishing is nothing new to me now, so I'm quite used to writing and publishing my books. I was e-published back in 2005 and that was quite exciting, but after my fifth novel, I started getting used to it. I'm indie now, and I love being involved in the process from start to finish. I can moan at times when I'm faced with a few months of editing and promotion before I can write again, but I do like being in control of each step. Writing the first draft is the most exciting moment, and then I have to edit the stories and proof them, and that takes twice as long as writing the first draft, but then I get to make the cover and plan the release, and the excitement comes back again. It's a lot of work though!
Are you working on any other projects we should watch out for?
At the moment, I'm editing Forbidden Blood, which is a stand alone vampire romance novel that should be out towards the end of April 2011. My next release is a Vampires Realm novel, Hunter's Moon, and that will be out at the end of February. Once I'm done editing Forbidden Blood and proofing Hunter's Moon, I'll be editing Ascension, an urban fantasy romance novel, and then planning and writing the novel in the Her Angel series, as well as another Vampires Realm story. All in all, I'm due to have 11 releases this year as part of my 11 stories in 2011 challenge.
If you had to do it all over again, would you change anything in your latest book or publishing experience?
No, not at all. I loved writing and working on Love Immortal. Originally it was going to get me an agent, but the story ended up at around 160,000 words, which is 70,000 too long for an agent to really consider. In a way, I'm glad that I stuck with indie publishing as it's really taking off now. It was a struggle for the first four years that I was indie because it wasn't easy to distribute books and there weren't many places to sell them. Now we have Amazon, iBookstore, Sony, B&N, and Kobo, and so many other places. It's a really great time to be indie, but I think I would still consider a print deal if one came along, as all authors dream of seeing their books on the shelves in stores.
What was the hardest part of writing your book?
Revising it over and over. The editing on this one was intense and I did several bouts of it, including one where I wound up adding over thirty thousand words to the story because I needed to explain some stuff in better detail and intensify a lot of scenes. It was quite hard going but it was worth it as I think the book really shines now.
What do you do when you are not writing?
Well, I'm a full time web developer, so I guess I do that and the rest of the time I cram in as much writing work as possible. If I find some time away from it, I'm generally watching anime and drawing, playing PS3, or relaxing with my husband and watching TV.
If you could be a supernatural being, what would it be?
Vampire. Without a doubt. I've adored vampires since I was around six years old. I have book reports I wrote back then and I was never happy unless the story I was reading was scary or featured things like vampires, werewolves, and Frankenstein's monster. It's fascinating to find them so many years on and realize that I've loved all things paranormal since I was a child.
Tell the readers what to expect when reading one of your books.
I guess it depends on the book, but they can expect a romance that will bring a smile to their face, and heroes or heroines they can fall in love with. If the book is a novel, like Love Immortal, then they can expect a non-stop thrill ride that will grip them and not let them go.
Do you have anything specific that you want to say to your readers?
The only thing I always say to them—thank you. Without readers, this whole experience wouldn't be as much fun. I write for myself and my readers, penning stories we can all enjoy and escape with for a while. My readers are fantastic, supportive, and always there when I need them. I couldn't ask for anything more from them. All I can do to thank them is keep writing more stories.
Felicity Heaton is uber-talented, funny and is has completely one me over with
Love Immortal.
The world she creates instantly draws you in, her characters are all so different and so real that they soon become your best friends, and it doesn't hurt that it's filled with passion, heart pumping action and romance. I cannot wait to read more from the great Mrs. Heaton. Check back tomorrow for my review of Love Immortal.
Do you think Felicity Heaton is as awesome as I do? Great, then follow her. No stalking necessary!
visit her
Website
read her
Blog
follow her on
Twitter
friend her on
Facebook
find her on
Goodreads
Have you read
Love Immortal
? Are you rushing to add it to your TBR list? Let's hear your thoughts!