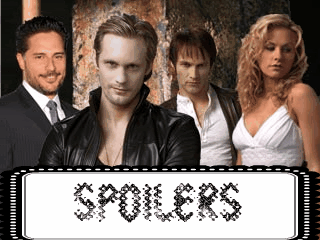 The official synopsis and pics for the Season 4 episodes of True Blood are starting to pour in and I'm sharing them with you. Here is the synopsisto the season premiere of True Blood!
Episode 1 - "She's Not There": Sookie journeys away from Bon Temps; Eric and Bill try to win back the human public; Jason learns that no good deed goes unpunished; Tara finds refuge in close quarters; Sam bonds with his own; Hoyt and Jessica debate the dinner menu; Jesus urges Lafayette to join a coven; Terry tries to alleviate Arlene's fears about the baby.
And now for the picture you've been waiting for....Eric and Sookie! Isn't his hand a little low there? hehe (note that I added the heart, I couldn't help it..lol)
What (or who) are you most excited to see in the premiere of True Blood Season 4?