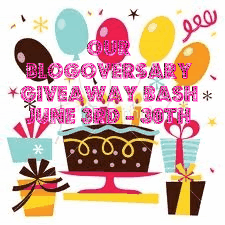 June brings the 1st Blogoversary of Paromantasy! I can't believe it's been a year. To celebrate I am doing a month of giveaways! Some of my favorite authors are joining me to celebrate and you get to reap the benefits!
This includes the great HP Mallory, the uber-talented Kait Nolan, the wonderous Toni LoTempio and more!! Check back daily for my surprise giveaways!! Check my sidebar Blogoversary Giveaway icon to see a full list of authors participating!
Remember, when you see a review with Blogovesary Giveaway in my post title, you know to run to the post and comment for a chance to win one of the many books that are being offered this month.
Join us tomorrow as we start this giveaway with one of my favorite authors of all time: HP Mallory!