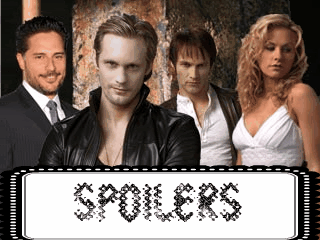 With the True Blood Season 4 premiere right around the corner, what better way to celebrate than with some spoilers! Here are some juicy tidbits to get you through the rest of the week!
Bye, bye Bill. Hello Eric?

Eric = Amnesia = Witches = Personality change = Sookie's lover?
Witches vs Vampires and one popular fairy
Sam gets snuggly with another Shapeshifter named Luna
Alcide moves closer to Sookie in more ways than one
Get ready for an unlikely romance that will leave you shocked
Pam gets snarky - what's new? :-)
Once straight is now gay. A major heterosexual character turns a new...leaf?
Tara has a new job to match her new hairdo
There's a new wolf pack in town
Jessica makes Hoyt Dinner and it's not your average couple's night in
Jesus urges Lafayette to join a coven
Marnie, what a witch! Her goal threatens the Vamps.
What character do you think will start playing for the other team?