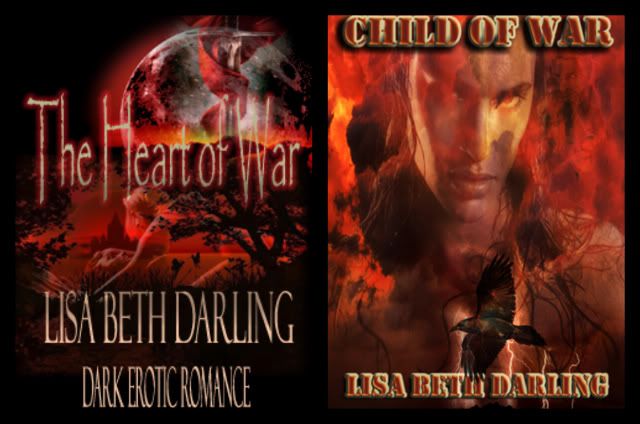 We are shining the spotlight on one of an author who has turned me into an instant fan with her Dark Erotic Paranormal Romance book,
The Heart of War
. The Heart of War follows the stories of Ares, the God of War, and Alana a fairy on the run. When she washes up on the shores of Ares island, their worlds change. Suddenly, the God who has been only out for himself and the fairy who has been hiding from her past find that the biggest war will be against the sudden love for each other. Will they risk it all to be together or will their past come back to rip them apart? This book in one word: Amazing! Check back for my full review tomorrow.
Lisa was kind enough to take some time out of her busy schedule to come to have a chat about her life, her books, and a certain delicious (see pic below) inspiration that started this delectable series!
Let's give it up for Lisa Beth Darling!!
Who is Lisa Beth Darling? Tell us about yourself.
I'm a wife, mother, photographer, gardener, and a part-time secretary in an insane law firm. I've been married to my wonderful and talented husband, Roy, for the last 25 years and we have two adult daughters.
When did you know that you wanted to be a writer?
I was given my first creative writing assignment in 4th grade and I was hooked. I was instantly transported to a tiny world of my own creation. I knew that this was what was I was going to do the rest of my life. After that, whenever someone asked me "What do you want to be when you grow up?" I always said "A writer."
Why write paranormal romance? What attracted you to the genre?
I was introduced to the Master, Stephen King, at the age of 10. That was another 'eureka!' moment in my life, again, I was hooked, and I never looked back. With the exception of "The Dark Tower Series" I have voraciously read everything he's written. He took my breath away and took me to places dark and scary that made my heart race and my pulse pound as I fought to hold onto the book and turned pages with shaking hands. Good stuff!
I didn't get into romance stories until Junior High when I added Harold Robbins, Jacqueline Susan, Judith Rossner and (shamefully) one or two Danielle Steele stories, to my reading repertoire but it didn't all start coming together to form my particular writing style until I read VC Andrews and an obscure romance novel entitled "Raven" by Shana Carrol. By the end of 8th grade I'd written my very first full-length novel, "Save Me from the Roses", it blended all of the above. People thought it an odd combination back then because there was no such thing as "paranormal romance" so I just called it "horror with romance".
Where did you get the idea for The Heart of War from?
A lot of things came together for me in Junior High, at least as far as my long term future would pan out. (A lot of things fell apart in Junior High too and confused the heck out of me just like everyone else.) In 7th grade my English teacher introduced us to all sorts of wonderful things and one of them was Greek Mythology. I was outstandingly lucky enough to have the same teacher in 12th grade when we did the Greek Tragedies and more Greek Mythology. Yep, a few more 'eureka' moments to be sure. I found it all completely fascinating. I fell in love with Ares, no one understood it, he was the villain, the bad guy, he was HORRIBLE as far as everyone else was concerned. But I never really saw him that way. I tended to see him as being the scapegoat in many instances.
Years after graduating high school, as I got married, raised my kids, and I continued writing my little stories, two TV shows made their debuts: "Hercules the Legendary Journeys" and "Xena Warrior Princess". They were fun shows, just plain fun, a little campy, bad effects, but decent acting and they stayed (fairly) true to a lot of the mythology. Long about the 3rd season of "Herc" this absolutely mind-blowingly drop-dead gorgeous hunk burst onto the scene to play Ares. Kevin Smith knocked me off my feet. He really did. He still does, just looking at a picture of him is enough to make my heart race and my brow break out in a light bead of sweat. (RIP, my man, you are sorely missed.)
In between the years those two shows went off the air and another show came called "Highlander: The Series" my writing turned from original fiction to what is now called "fan fiction" (again, back then there wasn't really a name for it and you didn't advertise that you wrote it for fear you'd be sued! Yes, times have drastically changed for the better.) The novel was entitled "Highlander: Forever" and that was the first story I used Ares in, he came in at the tail end, as the heroine's father. It was a very small part.
A few years later another show came on the air, "Stargate SG-1" and the character of 'Daniel Jackson' caught my attention. I wrote a HUGE fan fiction series entitled "Daughter of the Gods" it consisted of 6 novels and 30 short stories. Ares came back to play the heroine's father once more but this time he wasn't satisfied with being a minor character and he damn near took over the entire series of stories. He did not like taking a backseat to 'Daniel Jackson' in the slightest! To put it mildly, he thought Danny was a wimp and he never let me forget it.
It came time to start another novel and I was uninspired. I hate it when that happens. So, in order to maybe find a little inspiration, I went to the Almighty Google and typed in "Kevin Smith shirtless". This was the first return:
Oh! Be still my little fluttering heart!
That picture met my eye, I lit up like the Christmas Tree in Rockerfeller Center, and "The Heart of War" was born in about 30 seconds. I'm not kidding. Within 30 seconds of looking at the above photograph, I had a 500 page novel in my head just screaming to get out.
Which is your favorite character?
Ares, of course. I'm doing this entire series just for him.
If you could change anything in the book, would you?
It's gotten some totally fabulous reviews but it's gotten panned a lot too on account of the violence in it. I've been wrestling with toning that down in the sequel "Child of War". I don't want to, I want to write whatever the story calls for with no holds barred because, well, that's the way I do it. I write for adults and I treat them like adults who are capable of understanding and handling the world in which they live. Obviously, not every qualifies but I can't make everyone happy either. Those who don't like their reading material dark and gritty should just not read my stuff.
What can you tell us about the sequel, Child of War, due out in December?
Ares and Alena will welcome their first child, Raven, into the world. Have you ever seen "The Omen"? LOL Raven has inherited his Father's temper and he is a very angry young man, most of his anger is directed at his mother, Alena. He'll be causing quite a bit of problems for her as will Zeus, Apollo, Morpheus, and a few of the other Olympians. We'll be discovering lots of interesting things about the origins of the Olympians and the Celtic Gods, along with those of the Fae, Muse, Grace, and Nymph. I'd like to say that it will all work out in the end but I never make that kind of guarantee.
Who are some of your favorite authors?
The Master, of course, Stephen King. I used to read a lot of Mary Higgins Clark until I started being able to figure whodunit before I was ¼ of the way through the book. VC Andrews, I still adore the "Flowers in the Attic" series, I think it's bold and brilliant. If you should ever come across an old beat-up copy of "Raven" by Shanna Carrol read it! Also, look for any blue pen marking over the page numbers, if you find them, it's probably my old copy!
What book(s) are you reading now?
I received a copy of "Full Dark, No Stars" for my birthday last year but I still haven't cracked it and that's really ticking me off. I just can't seem to find the time to sit down and read anymore.
If you could be any supernatural being or have any super power, what would it be?
I wouldn't mind being a full-fledged Goddess…well, at least I'd like to try it out for a day or a week or a year.
Are you working on any other projects we should watch out for?
Right now, the "Of War" series is the only thing on my plate. "Child of War" may turn into 2 novels by itself with the way everything's going. People, for the most part, don't seem to want to read full-length novels any longer and this one could easily turn out to be a bit longer than "Heart of War". So we may end up with "Child of War-Raven-The Early Years" which would be much less 'violent' than "Heart of War" and sort of a transitional story. Then we would have "Child of War-Rising Son" which will take us back to the full-blown balls-to-the-wall type of a story that "Heart" is. Either way, once "Child" is finished there is one more novel in the series "Spoils of War" and that should wrap everything up. After that, it's anybody's guess what will pop into my head and take over my life next.
How can us super stalkers – I mean super fans – find you online?
I'm easy to find you can hit my website http://www.moonsmusings.com/lbdarling
My Blog: http://lbdarling.wordpress.com (fair warning: no topic is off limits here and it often gets far into the crazier aspects of my life and writing)
Facebook: http://www.facebook.com/lbdarling (new fan page, FB made me get it!)
http://www.facebook.com/lisabeth1 (personal page)
Anything you want to say to your readers or soon-to-be readers?
Don't be shy! I don't bite…hard. If anyone has anything they want to say to me or ask me they should feel free to step right up and do that. My life is an open book.
It is wonderful having Lisa here. She is an amazing writer, and a wonderful, entertaining person. If you think she is as awesome as I do, follow her....on her social networks. Stalking is against the law people :-)
Giveaway Time
Now for the giveaway. Lisa is giving away a copy of The Heart of War to one lucky reader! The winner will be chosen at random on August 6th, 2011. Here's how it works. Follow me and leave a comment below with your name and email address before midnight of August 5th.
Want extra entries, no problem! Just remember to leave comments with links below for each new entry! You will get extra entries for each:
Publicize this giveaway, then come and leave another comment with the link
Tweet about this giveaway and/or Lisa Darling with a link to this article, then tell us about it
Blog about it! Add a link to this article and The Heart of War to your blog.
Become our fans on Facebook
Become our friends on Goodreads
Follow us on Twitter
Add The Heart of War to your Goodreads TBR list
Good luck! I know you are going to love her book. Come back tomorrow for my review of The Heart of War!