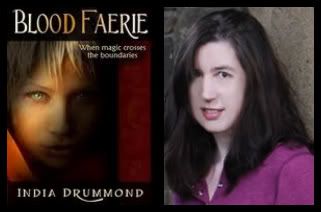 We are shining the spotlight on fantasy author India Drummond. I have just finished reading her first book of the Caledonia Fae series,
Blood Faerie
, and it was amazing. The story follows a fae named Eilidh. Possessing a forbidden power, she has been sentenced to death and has run away, living a life in secrecy among the Mortal world. When murders spring up around her, she realizes that it is not a human commiting the crimes, but one of her own. Soon Elidith realizes that the Mortals aren't the only ones to fear. As she gets closer to the truth with the help of an unlikely friend, Eilidh finds herself in the face of danger. Will she be able to defeat the fae responsible or is all hope lost? This book is a page-turner filled with action, danger, romance and a world that instantly grabs you! Check back tomorrow for my full review.
The uber-talented India Drummond was kind enough to sit down with us and answer a few questions about her life, her books, and the genious behind Blood Faerie.
Let's give a warm welcome to India!
Hi India, Tell us about yourself.
I knew from childhood that writing would be my passion. Since then I've discovered many more, but none quite so fulfilling as creating a world, a character, or a moment and watching them evolve into something complex and compelling. I have lived in three countries and four American states, am a dual British and American citizen, and currently live at the base of the Scottish Highlands in a village so small its main attraction is a red phone box. In other words: paradise.
When did you know that you wanted to be a writer?
From the time I realised it was a real job. I remember asking my mother why someone else's name was on the front of my books. I was amazed and delighted to learn that some people made money by just making stuff up.
Where do you get the idea for Blood Faerie from?
It all started with St. Paul's Church, which is an important setting in the book. Its steps are the location of the first murder, and my main character hides in the abandoned building frequently. I see it every time I go into Perth (I live in a village just outside the city), and something about this old and ruined, yet beautiful structure, sparked my imagination.
Which character is your absolute favorite and why?
Although this surprises me, it would have to be PC Quinton Munro. He's just so normal, in a world where he's faced with some very not-normal things. And there's something honest and real about him that I love.
Are your characters based on people you know?
They may have been when I was first learning how to write, but it didn't take long to get that out of my system. Now I find it easier to create someone that I don't have any feelings or preconceived ideas about. That gives me more freedom to let them change and grow as the plot develops.
If you could be a supernatural being, what would it be?
Hmm, that's really tough, especially since I tend to write my own rules for the magic and beings in my books, rather than relying on myths or traditional tales. I am really enjoying exploring the faerie world in this current series, but I might change my mind when my next series rolls around, and I'm delving into something new!
Which character was your favorite to write?
I found Eilidh the most interesting, because I could really see her clearly in my mind. With every situation, I enjoyed watching her interact with the world and give her own perspective on it. She made ordinary things seem special or even strange.
Who are some of your favorite authors?
I read widely, enjoying fantasy, thrillers, crime, sci-fi, romance, and I've come to appreciate the occasional historical novel. So I find it nearly impossible to narrow it down! I have read just about everything Raymond Feist has ever written, I love Octavia Butler, and traditional fantasy like JV Jones, but I also like folks like Tom Clancy, Lee Child, and even Agatha Christie.
What books are you reading now?
Right now I'm neck-deep in edits, and I find it difficult to read for pleasure when I'm reading for work. But, the next three books on my TBR pile are: The Crown Conspiracy by Michael Sullivan, The Chosen by Shay Fabbro, and The Charmer by Autumn Dawn. I really hope I can get some pleasure-reading time soon!
Was writing and publishing your book how you imagined?
No. The publishing world is much different than I could have imagined as an aspiring author, and everyone's path seems to be just that little bit different, so it would be nearly impossible to write a guide everyone could follow. I suppose all creative jobs are like that. I will say, it's never been boring!
Are you working on any other projects we should watch out for?
I've started work on Azuri Fae, which is the sequel to Blood Faerie. I hadn't really planned for it to be next in the queue, but it was screaming at me to write it, so I went with it. I've got the structure all worked out, but there is still one major plot point that I'm angsting over. I'm planning to ignore it until I have to deal with it at about the 2/3 point, so even I am not entirely sure how the story is going to end. So that's the next arrival on the horizon.
If you had to do it all over again, would you change anything in your books or publishing experience?
A different path would have landed me in a different spot. So, considering that I'm very much happy with the way things are going, and I could hardly have asked for a better response to my work, I'd have to say no. I'm just so excited for the future right now. I only wish I could write faster!
What was the hardest part of writing your books?
Becoming the writer I am now has been a learning experience, and I'm sure I have even more lessons ahead. But I wouldn't really call any of it hard. It's not like I'm a brain surgeon or a lumberjack. (I think I'd hate both of those jobs for different reasons!) I love what I do and look forward to it every day. Sure it's work, but it's such a pleasure that I wouldn't complain about a single moment of it.
What do you do when you are not writing?
I draw. I play guitar. I have meaningful conversations with my cat. Although I don't do as much of it as I used to (I'm chained to the keyboard too often these days), I love to travel.
What can readers expect when picking up an India Drummond book to read?
I write books I would want to read myself, so I tend to include a mix of elements: magic, action, sometimes a murder or three, an occasionally laugh, and a touch of romance.
Do you have anything specific that you want to say to your readers?
I love hearing from readers, so if you've read my books (or plan to) and would like to get in touch, please do! You can find me at http://www.indiadrummond.com and on the many social networks to which I'm completely addicted.
Thank you so much for inviting me to chat with you today!
India is an amazing writer, a nice person and someone who I'm sure we are going to be hearing a lot from.
If you think she is as awesome as I do, stalk her - on the interner I mean :-)
Website
Facebook
Twitter
Newsletter
Giveaway Time
Now for the giveaway. India is giving away a copy of Blood Faerie to one lucky reader! luck winners will be chosen at random on July 30th. Here's how it works. Follow me and leave a comment below with your name and email address before midnight of July 29th .
Want extra entries, no problem! Just remember to leave comments with links below for each new entry! You will get extra entries for each:
Publicize this giveaway, then come and leave another comment with the link
Tweet about this giveaway and/or India with a link to this article, then tell us about it
Blog about it! Add a link to this article and Blood Faerie to your blog.
Become our fans on Facebook
Become our friends on Goodreads
Follow us on Twitter
Add Blood Faerie to your Goodreads TBR list
Good luck! I know you are going to love her book. Come back tomorrow for my review of Blood Faerie!