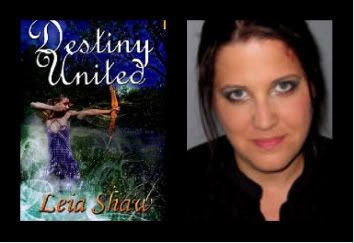 We are shining the spotlight on a new author who is a definite force to be reckoned with - Leia Shaw. Destiny United has made me an instant fan with its perfect blend of action, romance, mystery, suspense, and fun. Destiny United follows the story of Erin and Marcelo. Erin learns that her sister is the leader of the underworld and she has sent a devastatingly handsome vampire Marcelo to take escort her to the Underworld where her sister awaits.Marcelo has been on a quest for his long lost wife, but stops to aid the new queen in bringing her sister safely to the Underworld. When the two meet, there lives are forever changed and the world as they know it will change with it. This book is amazing!
Leia is here today talking about her life, her books, and her love of the forbidden...
Let's here it for Leia!!
Tell us about yourself.
Let's see…I have five tattoos. I've been hypnotized in a comedy show and thought I was Aretha Franklin. I love the mountains. I've had some of the strangest jobs of anyone I know including, ski lift painter and cotton candy seller at the circus. I love chocolate. I love to laugh but sometimes have an inappropriate sense of humor (like laughing when people get hurt). I live in New England with my husband who swears I would be happy if he sprouted fangs (I neither confirm nor deny this). I like to play zombies and witches with my two kids (who seem to have the same morbid fascinations that I do).
How did you start your career as a writer?
I'm a jump-in-with-both-feet kind of person. Most writers start out with short stories or articles or something. Not me. I decided I wanted to write a book, so I did. Halfway through writing the first, my head started spinning with ideas for sequels. So I kept writing. Now I'm working on book three. I never lost focus and kept my eye on my destination. My plan is to write all seven books in this series in the next few years.
Where did you get the idea for the Destiny United?
Marcelo was a side character from the first book, Destiny Divided. I really liked him so I said, well, let's make him the hero for the second. And since Sage, the heroine in the first book, is a kick-ass, tough girl with a bad temper. I wanted the heroine in this book to be opposite. She's timid and sweet, but not a pushover. The rest of the story just kind of fell into place. The first book's characters included; vampires, sorcerers, and witches. I wanted to add something to that mix, so in the second book, we get a look into the fae.
Vampires and Fae and Werewolves, oh my. I love a book with a ton of Supes like the characters we find in Destiny United. Which character is your favorite and why?
Ah, let's see. Gotta go with the traditional vamps. They're a classic. The blood, the fangs, the darkness. It's so forbidden, which, of course, makes it sexy. I love the hero of Destiny United, Marcelo. He's very alpha and can be a little pushy, but he's not afraid to apologize. He has a sweet, tender side. And really, who doesn't dig a Spanish accent, right?
Which character are you most like?
Both of my heroines (so far) have a little bit of me in them. Erin (from Destiny United) has my compassionate and playful side. But I think I'm most like Sage from my first book (Destiny Divided). And I'm not sure that's a compliment since most people find her unlikeable in the beginning. Lol! She's abrasive, rough around the edges, and very sarcastic. I don't think I have quite the temper though (she tries to kill her mate in the first scene).
Erin has to overcome her fear of the world in order to embrace her new life. Has there been a time when you had to confront your fears?
Yes, many of the themes in both my books have come from my own life experiences. Okay, well, minus the evil villains out to kill me and vampire lovers. But they say you write what you know. And even in fiction, I think that's true. One of the themes in my books (third one included) is trust. I think everyone to some extent has dealt with trust issues, I'm no different. I think intimate relationships are the ultimate risk. It's not so bad being betrayed by a stranger. But betrayal by someone you love hurts.
And going back to the whole jump-in-with-two-feet thing. Yeah, let's just say a beginner snowboarder should not try the black diamond slope, not even to impress a guy. Also, rock climbing without a rope is a bad idea.
Who are some of your favorite authors?
So many but here are a few in this genre; Kresley Cole, Karen Marie Moning, Ilona Andrews, Diana Gabaldon. All four have influenced me in some way or another.
What books are you reading now?
I just finished Thea Harrison's Dragon Bound
and Storm's Heart
. Loved both of them! I'm one of those people who reads several books at once and flip flops around depending on my mood. I'm also reading the most recent of the Kate Daniels
books by Ilona Andrews.
Are you working on any other projects we should watch out for?
Definitely. Book three of the Shadows of Destiny series comes out in January. Destiny Unchained. We've heard a little about Marcelo's wife from when he was human, who was turned into a vampire before him. Her name is Natalia. She's called The Huntress because she hunts rogue werewolves and ruthlessly kills them. She's my toughest heroine so far. She's also shut off her emotions and is going to be a hard shell to crack. Good thing she finds Cristian, the passionate, sexy alpha of the Northwest werewolf pack. I'm excited to integrate werewolves into this book. In the last two books they've been sort of the bad guys. Now we'll see a different side to them. And Cristian is my first laid back, not so dark and brooding hero. I'm excited for them!
What was the hardest part of writing your book?
Hmm…thinking I'm done several times then having my critique partners say…uhh…you need to fix ______. So frustrating, but I usually listen to them.
What do you do when you are not writing?
Play with my kids. Read. That's pretty much all I have time for.
If you could be a supernatural being or possess any power, what would it be?
Geez, you ask hard questions. I think I'd want to fly. I love heights. I'm kinda weird that way.
Tell the readers what to expect when reading one of your books.
I think I pride myself most on creating three dimensional characters. They are flawed, they make mistakes, they have to deal with the same themes we all do; trust, forgiveness, fear, love. Of course my heroines have a sexy, alpha male at their side who only cares about their pleasure in bed and says romantic things a real guy never would. Lol!
Basically, my books are about a male and a female who fight danger, grow in character, have great sex, and fall in love. Don't you wish your life could be so exciting?
Do you have anything specific that you want to say to your readers?
I know I'm still a new author and don't have much credibility but I hope you'll give my books a shot. The books can be read out of order. Readers have said the first book (Destiny Divided
) is funnier. But the second book (Destiny United
) has more heart. I love them both and I hope you do too!
Leia Shaw is an up and coming author who is a definite force to be reckoned with.
Destiny United
can put many of the traditionally published books to shame. It is an intense thrill ride filled with twists and turns that will take you an emotional rollercoaster and leave you begging for more of Leia Shaw's "literary crack" - it is that addicting..lol
You can cyber-stalk Leia on her social media sites!
Website:
http://www.leiashaw.com/
Trailer:
http://youtu.be/NEvdUmSMhuY
Twitter:
@LeiaShaw
Facebook:
http://www.facebook/leiashaw
Goodreads:
http://goodreads.com/leiashaw
Giveaway Time
Now for the giveaway. Leia is giving away a copy of
Destiny United
to one lucky reader! The winner will be chosen at random on August 27th, 2011. Here's how it works. Follow me and leave a comment below with your name and email address before midnight of August 26th.
Want extra entries, no problem! Just remember to leave comments with links below for each new entry! You will get extra entries for each:
Publicize this giveaway, then come and leave another comment with the link
Tweet about this giveaway and/or Leia Shaw with a link to this article, then tell us about it
Blog about it! Add a link to this article and Destiny United to your blog.
Become our fans on Facebook
Become our friends on Goodreads
Follow us on Twitter
Add Destiny United to your Goodreads TBR list
Good luck! I know you are going to love her book. Come back tomorrow for my review of Destiny United!