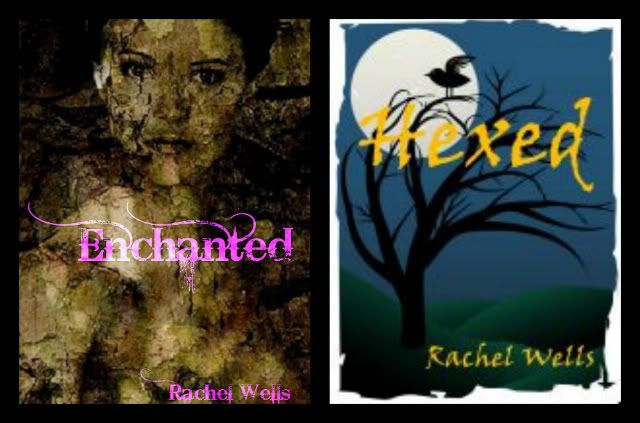 Today we are shining the spotlight on a newly discovered author Rachel Wells. Her Forever Charmed series is a YA PNR/UF that had me racing through the pages and begging for more. The first book
Enchanted
, did exactly what the title suggested. It enchanted me from the very first page as we followed Mandy on her journey of magic, love, betrayal and action as she discovers that she is a witch and there are people who will do anything to possess power. The journey continues in part 2 of the series,
Hexed
. Here we see that the stakes are higher as Mandy is faced with the possibility of losing those she loves most. When a fallen angel gets a hold of a vial of dark magic, it is up to Mandy with her new powers, some old friends, and tons of magical creatures to bring the angel down before it is too late. This book is filled with more...more action, more romance, more magic. If you love magic, romance, fun and action, then the Forever Charmed series is for you!
Rachel Wells is here today to talk about this hot new series, how she became a writer and why she thinks young romance can work! BTW - I also married my highschool sweetheart, so I am totally agree with you :-)
Let's hear it for Rachel Wells!
Tell us about yourself.
I'm a wife and stay at home mother to three girls. I like to cook, bake, scrapbook, read, and write. Nothing too thrilling!
When did you know that you wanted to be a writer? How did you start?
I was always writing stories as a kid. Probably because I always loved to read them and it was fun to me to make up my own. I always thought it would be really cool to write a book, but before you actually sit down to write one, it can seem like an almost impossible task. When I had the idea for Enchanted, I decided I was just going to do it. Even if I had to write it a little bit at a time, and I did.
Where did you get the idea for the Forever Charmed Series from?
I've always liked "weird" stuff, like paranormal and supernatural things. I vacation in York Beach, Maine, which is where the story takes place, and one summer I heard about a ghost tour there. When I looked into it I found out about Mary Nasson, the reputed witch. That caught my attention and I began to dig around on the internet for more information about her and the story just grew and developed from there.
I love the world of magic you created, especially the whole new world set forth in Hexed. Which supernatural being would you be if given the choice?
I think it would be awesome to be a psychic, especially an eccentric time traveling one like the Ophelia in my stories.
Which character is your favorite and why?
I love Mandy, probably because she is a lot like me. We share a lot of the same qualities, feelings, and tendencies, so I can really identify with her.
Which character are you most like?
Like I said, Mandy. :-)
Mandy and Steve maybe young, but they have a love that defies all odds. How did your first love match up?
It was similar actually. I met my now husband in high school, and we started out just as friends…however we ended up married at 19! Still together today. When you're that young, I think a lot of people think you are crazy and expect you to fail, but that's not always the case.
What authors and/or books have influenced you?
There's so many books and authors that have influenced me in more than one way. I love the Twilight books, the actual story and Stephenie Meyer's success with them. But I also love to read about Indie writers who have done well, such as Amanda Hocking or H.P. Mallory because it's inspiring to me to know that success is possible.
What books are you currently reading?
I'm reading Jane Eyre. It's a classic I had yet to read, and I'm really loving it!
Are you working on any other projects we should watch out for?
I'm working on the third book in the Forever Charmed series, Changed. It's going to be the final one and so far to me, it seems to be the most magical of all three.
What was the hardest part of writing your book?
Finding time to write is a challenge when there are three kids running around. Writing Enchanted was more difficult because it was the first in the series, and when I started writing it I had a very vague idea of what I wanted it to be about. I knew the setting, I knew Mandy was in it, and I knew I wanted the reputed witch of York, Mary Nasson, to play into it. Other than that, I had no clue where I was going. So sometimes I would figure things out and write a lot, and sometimes I had no idea what to do so I wouldn't write at all. Writing a book that way takes a lot of time. With Hexed, I decided to try a different route. I set a 2000 words a day goal. Each day I did my 2000 words, and I was done within six weeks. The story just rolled out of me. I don't know if it's because I was more familiar with the characters, or the guidelines I imposed for myself, but I've learned that I work better with a concrete goal in front of me.
What do you do when you are not writing?
Like I said, I've got three kids…so I do mom stuff. Cook, clean, bake, chauffeur kids to school, gymnastics, girl scouts, etc. I like to squeeze in some reading time for myself, or lose myself online for a while too.
Completely random question: What is your favorite TV show or Movie?
I really don't watch a lot of stuff. I like a lot of outdated things…the American Pie movies, for example. Or my favorite movie as a teenager was Hocus Pocus. It's so dumb but so funny at the same time. I still watch it every year around Halloween and I always laugh at it still. Sarah Jessica Parker was hilarious in it.
Tell the readers what to expect when reading one of your books.
I try to write about characters that can be related to. If you can connect with a character as far as who they are and what makes them tick, why they do what they do, etc., it just makes the story so much more believable and real feeling, even in something so far-fetched as a paranormal book. I want readers to be left with that sort of feeling like maybe there's a possibility of magic in the real world after all.
Do you have anything specific that you want to say to your readers?
Just that I hope they like what I write! It's so mind boggling to know that I wrote a book and other people out there read what I wrote. It's just a great feeling!
Thanks Rachel for stopping by! Rachel's Forever Charmed series is a mix of humor, action, romance, and danger all wrapped up with a magical punch. It will have you racing through the pages and guessing until the very end. And guess what...Rachel is giving away a copy!
Giveaway time!