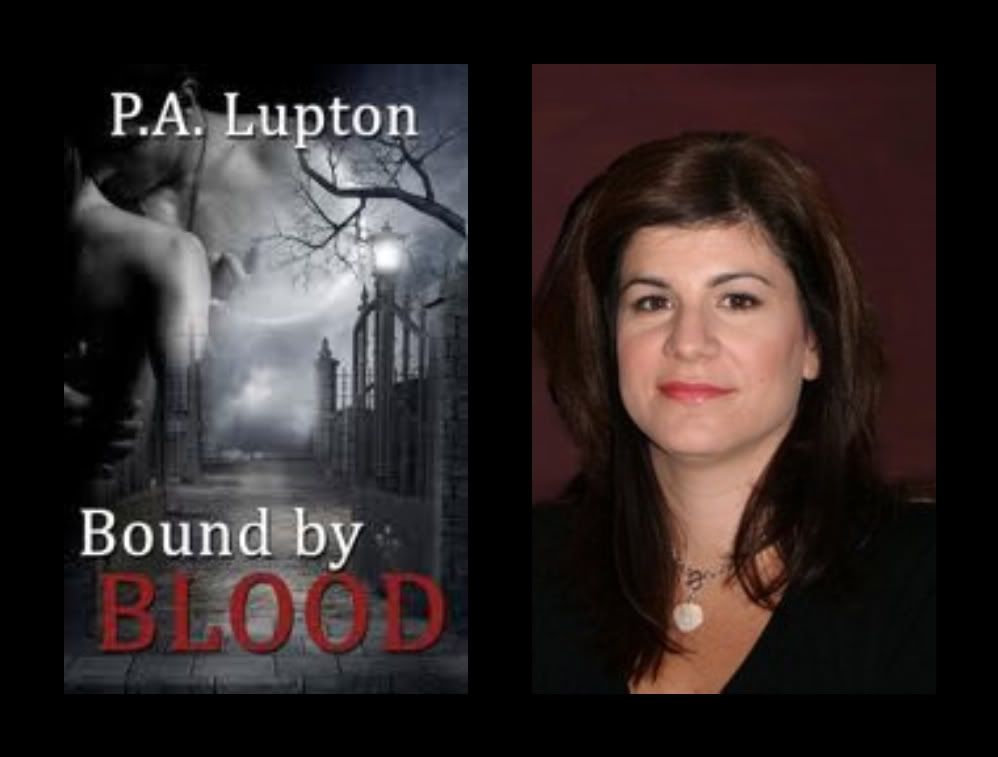 Today we are shining the spotlight on P.A Lupton, an urban fantasy and paranormal romance writer who made me an instant fan with her action-packed, witty, suspenseful and romance-laced novel, Bound by Blood (The Garner Witch Series)
. This book had me glued to the pages until the very last page. It follows Brianna, an FBI agent with a secret - she's psychic and uses her gift to help put criminals away. Soon she discovers there is alot more to her powers then just being psychic. As she tries to solve a string of murders, all female and all with a deadly aura that she cannot solve, she finds the answers and loses her heart to her number one suspect. This book is incredible!
PA Lupton has taken the time to come and chat with me about her book, her life as an author and our mutual love for all things chocolate!
Let's give it up for PA Lupton!
Hi Penny! Tell us about yourself.
Well, I'm a thirty(ish) Gemini. I've been happily married for fifteen years and I have two very mischievous boys.
How did you start your career as a writer?
Reading is an obsession for me. I love getting lost in books, especially anything paranormal. I'd been thinking about writing a novel for years but never started. Still, I've always been determined and I mentioned writing a book to my mother who said "There's no way you can do it." Well, that was it for me; I set out to prove her wrong. When I finished I took the completed manuscript to my mother with a smug smile and said "Ha, you said I couldn't do it." She laughed and said. "I knew that would work." Funny thing is I started writing mostly to see if I could do it, but now I can't turn it off—I love it too much.
Where did you get the idea for Bound by Blood from?
My ideas for the story came from my love of vampires and witches in general. I find both fascinating and I love reading about anything to do with witches or vampires. Still, I always find paranormal novels are usually about one or the other, I wanted to change that a make something unique that incorporated both.
I love your unique twist on vampires and witches. Which would you rather be if given the choice?
Definitely a witch. I don't think I could drink blood.
Which character is your favorite and why?
This is hard to choose because I love my three main characters, but the story is about Brianna so she's definitely my favorite.
Which character are you most like?
I'm a little OCD about my characters. When I come up with a character I search the internet until I have a picture that fits what I've imagined. Then I put the picture in a photo album along with a history for each one. I know their birthdays, back stories, accents, idiosyncrasies, and so many more minute details. Brianna though is the only character I didn't do that for. I imagine myself in her shoes. Her thoughts and responses are all what I would think or say in a situation. Every other character I imagine how they would respond based on their character's personality. So I would say Brianna is the most like me—aside from physic gifts and powers, of course.
Brianna has two hot guys in her life, Agent Morrison and Nathan. Can we expect to see lots more heart pumping action from these three? (I ask as I wait with bated breath)
Yes, the sequel to Bound by Blood will continue from Brianna's perspective and will include tons of action with Morrison and Nathan.
What authors and/or books have influenced you?
My favorite authors right now are
Jeaniene Frost
and
JR Ward
.
Anne Rice
will always be a favorite for me, and she's the one who made me fall in love with the Paranormal.
Amanda Hocking
is the one who inspired me to self-publish so I'd say she's influenced me as well.
What books are you currently reading?
I read a book every day and I jump around from series to series. Right now I am finishing the
Fever Series
by Karen Marie Moning, and I am eagerly awaiting the release of
Drink Deep
by Chloe Neill. I also plan on finishing the
Archangels series
by Nalini Singh who is a new author I've recently discovered that I absolutely love.
Are you working on any other projects we should watch out for?
I am finishing the sequel to Bound by Blood right now and I am hoping to have it released around Christmas this year (fingers crossed). I have another first of a series I've completed but I'm still tweaking it a little and I would like to have that out early next year.
What was the hardest part of writing your book?
The absolute hardest part of writing the book is actually not the writing—that's the easy part. The hardest part is to stop writing. I finished the book and I wanted to keep going back and changing things. I kept feeling like I could make it better. Finally I had to decide it was enough.
What do you do when you are not writing?
I spend the majority of my time with my kids. They are into a lot of sports and it takes up a ton of time. When I can relax you will usually find me with a book in my hand or writing.
Completely random question: What food or dessert could you not live without?
I could live without anything but chocolate. I would be a very happy person if someone invented a calorie free, fat free chocolate bar that tastes exactly the same.
If you could be any supernatural being or possess any power, what would it be?
This answer changes from day to day, but I think I would love the power of teleportation. I'd love to teleport to Mexico just because I want a burrito, or Switzerland when I feel like chocolate.
Tell the readers what to expect when reading one of your books.
There are a few things I love when reading a book and those are must haves for me when writing mine. There has to be a strong, kick butt heroine who is independent and self sufficient. I like Urban Fantasy, but I have to have romance as well. Of course a strong, gorgeous Alpha hero is essential. Still, even though he's strong I love when the main characters are equals—I am not a fan of the damsel in distress storyline.
Do you have anything specific that you want to say to your readers?
First I'd really like to thank you for reviewing Bound by Blood and having me on your blog. I'd also like to thank everyone whose read the book and taken the time to give me such positive feedback. I've had people email me to tell me how much they loved the story, and knowing how much enjoyment I get from the books I love, it is such a wonderful experience to know I brought that to someone else.
PA Lupton is an amazing author and such a wonderful, sweet person - I think it's the chocolate. I'm a chocolate lover myself and we tend to be the greatest people alive :-) Bound by Blood is an amazing thrill ride that will grip you from the first page and keep you glued to the page until the very end, and guess what??? It can be yours!
Giveaway Time!