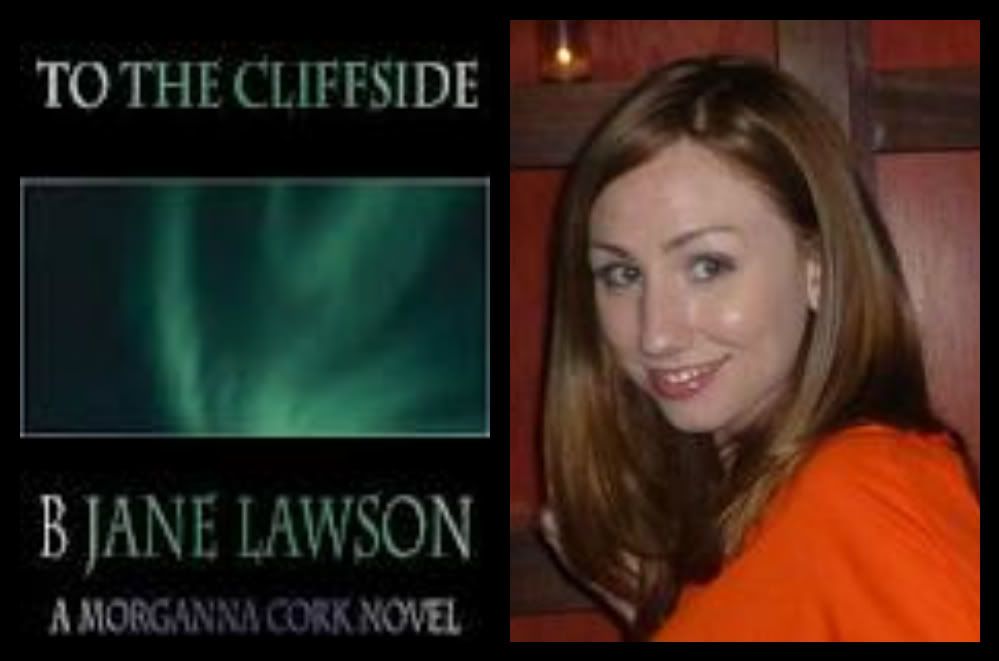 We are shining the spotlight on a brand new author that has quickly caught out attention with her unputdownable book To The Cliffside, B Jane Lawson! This book will grab you from the very first page and will not let you go. There is non-stop action, puzzling mysteries, a wonderful array of characters, and the sexual tension between Morganna and Cal is through the roof! This story follows Morganna who has always felt out of place, probably due to the fact that she is a healer. She thinks she is the only one in the world who has powers, but her little bubble is broken when her mother sends her to work for her cousin at The Cliffside Inn. Here nothing is what it seems and she soon finds herself in the middle of a war between an evil witch and those trying to stop her. As she is swept up into a world of Majicks, a group of people with varying supernatural powers from witches to werewolves, and she soon she has more to lose than just her life. The people she meets becomes like a family, even the frustrating yet incredibly handsome Cal. When the weight of the war is placed on her shoulders, it is up to Morganna to save those she loves most. Will she be able to stop the witch from gaining power or will she lose everything in the fight between good and evil? This book is in one word: AMAZING!! Check out my full review tomorrow.
B Jane was kind enough to stop by Paromantasy where we discuss her books, her career and out mutual love of bad boys!
Lets hear it for B Jane!
Tell us about yourself.
I'm a Chicago- native living in Los Angeles. I try to divide my time between necessity and interest. I love to be challenged physically and mentally - biking, hiking and walking are some of my favorite outdoor activities. I'm not sure anything will compete with a hot soy chai latte and a good book on a Saturday morning or a rough day. I'm both an audacious extrovert as well as an extreme introvert. Those two sides of my personality tend to always be at war with one another.
How did you start your career as a writer?
I began my 'career' as a writer in college. I was a history major at UCLA and this involved heavy writing. I started to get the inclination that I could make a career of it and began exploring by writing freelance articles for websites and magazines.
To the Cliffside is such a page-turner, filled with action, romance and mystery. Where did you get the idea for this story from?
It honestly developed in mind like a dream. I got this idea for the story in my head and I'd find my mind wandering to it day in and out and little things would inspire story lines. I architected the plot lines but the details were definitely a by the seat of the pants creation.
To The Cliffside is filled with such an array of characters. It has the strong-willed Morganna, the dangerously delicious yet completely complicated Cal, sweet Anya, and boy next door hottie Ralph.:
Which character is your favorite and why?
Callupo Stone is my favorite. He's just so sexy and mysterious. I'm constantly surprised and enthralled by what my fingers type about him.
Which character are you most like?
I'd say I'm a cross between Maeve and Morganna.
Morganna had always felt out of place because of her magic until she started living in the Cliffside Inn. Have you ever felt like the odd one out?
Absolutely, yes. I think we go through phases in our lives where we feel like the odd one out. I wish I could tell everyone that it'd be weird not to ever feel that way.
What would you rather be: a Witch or a Werewolf?
Witch!
When is book 2 of the series being released?
I am aiming to release in March 2012 the second book – Over the Cliff's Edge.
Who are some of your favorite authors?
For paranormal / romance I love Karen Marie Moning. I also really love Amy Tan and all of her books. Pat Conroy has a command of language that is unparalleled.
What books are you reading now?
I'm currently reading "We" by Yevggeny Zamyatin but the last great paranormal series I finished was Downside Ghosts by Stacia Kane. I like very emotionally complex characters.
Are you working on any other projects we should watch out for?
Nothing at this time.
What was the hardest part of writing your book?
Sometimes I was faced with the decision to reveal a particular fact or not. I had to remain true to the constraints of first person story telling and that sometimes limited me in what I could reveal.
What do you do when you are not writing?
I love to ride my bike, I love trying new restaurants (on the weekends I play the aspiring foodie), I love to shop and I have a handful of very close friends I enjoy spending time with in the evenings.
Random Question: Do you prefer bad boys or nice guys?
I prefer bad boys that hide their nice guy self until they find their special lady.
Tell the readers what to expect when reading one of your books.
I hope you will be exhilarated, entertained and a not just a little bit obsessed by Callupo Stone. Warning, you may also find yourself wishing the Cliffside Inn was a real place you could visit.
__________________________________________________________________________________
B Jane Lawson is a talented writer and uber-nice person who has made me a fan with this incredible, action-packed, sexually-charged thriller of a read that will make you laugh, keep your heart racing and your mind guessing til the very end. I cannot wait for the release of Over the Cliff's Edge!
Check back tomorrow for my full review of To The Cliffside!