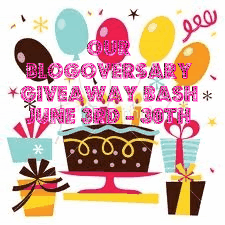 Today is the last day to enter the Blogoversary Giveaway so lets go out with a bang. I'm going to giveaway a copy of one of my favorite books - The Hunger Games. If you haven't read it then you definitely need to enter this giveaway asap! I'm giving away your choice of paperback or digital copy of this action-packed page-turner. See giveaway details below.
Official Synopsis
In the ruins of a place once known as North America lies the nation of Panem, a shining Capitol surrounded by twelve outlying districts. The Capitol is harsh and cruel and keeps the districts in line by forcing them all to send one boy and one girl between the ages of twelve and eighteen to participate in the annual Hunger Games, a fight to the death on live TV.
Sixteen-year-old Katniss Everdeen, who lives alone with her mother and younger sister, regards it as a death sentence when she steps forward to take her sister's place in the Games. But Katniss has been close to dead before—and survival, for her, is second nature. Without really meaning to, she becomes a contender. But if she is to win, she will have to start making choices that will weigh survival against humanity and life against love
My Review
Amazing, Gripping, and an Emotional, Action-Packed thriller of a read that will leave you bound to the book and racing through the pages to find out what happens! Katniss is, at the young age of 16, the care-taker of her family which includes her mother and younger sister. When it's time to pick the stars of the Hunger Games, which is the Capitol's reality show where a boy and girl from each district must fight to the death in order to gain food and a better life for their families, they pull Kaniss's little sisters name. Katniss makes the ultimate sacrifice and volunteers herself instead, knowing that she will probably not come out of the games alive. Follow Katniss as she faces her fears and struggles to become the victor of the Hunger Games.
This book will leave your heart-pumping, your tears-rolling and your nerves on edge as you experience the emotions right along with Katniss as she goes into the biggest game of her life!
This book is rated five fangs:
Blogoversary Giveaway
This 5 fang thriller of a read is up for grabs! To win, all you have to do is be a follower of my blog and leave a comment with your email address below. Today is your only day to enter so sign up now. The lucky winner will be chosen at random on July 1st. Be sure to check out the other giveaways this month. Click
here
to check them out and enter in as many giveaways as you want!