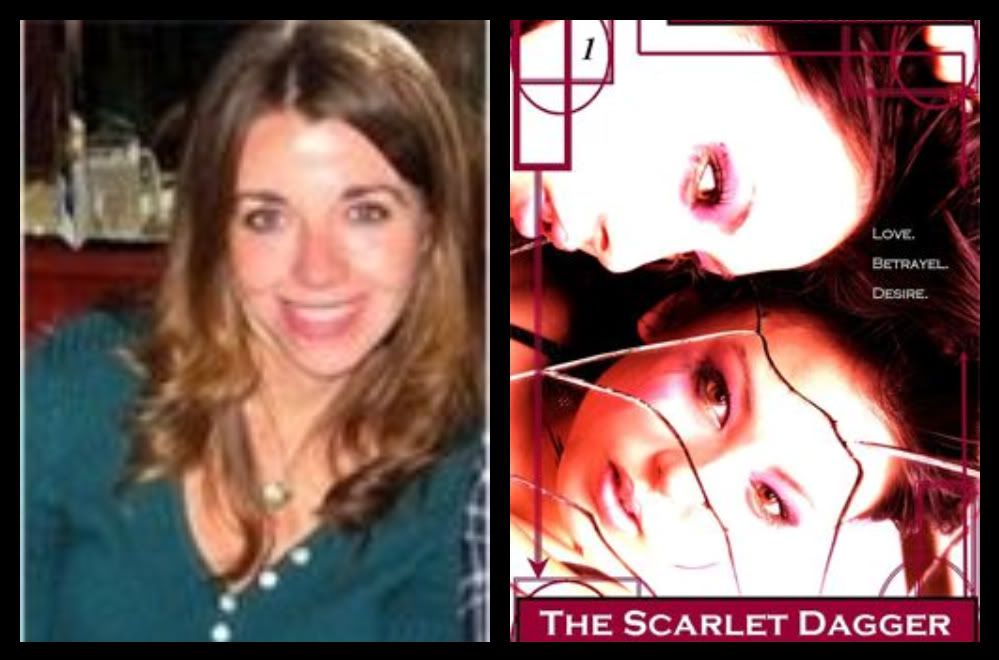 We are shining the spotlight on the author of The Scarlet Dagger Krystle Jones. I was instantly captivated by the world she built in her Urban Fantasy/Paranormal Romance/Dystopia mix, The Scarlet Dagger. This edge of your seat thrill ride of a read will leave your heart racing from the action, swooning over Aden and Sloan's relationship, and leave your mind spinning as you try to solve the many mysteries in the book. The Scarlet Dagger follows Sloane, a vampire hunter on the search for her twin brother that was left behind after The Eclipse, the night revealed themselves and attacked humans causing them to abandon their homes and run for their lives. She is certain that he lives so she sets out on a quest to find him in the now forbidden old neighborhood renamed The Rec Sector. When she is attacked and turned into the very thing she loathes she finds that life is not so black and white. Who can you turn to when no one is what they seem? This book is AMAZING! Read my full review tomorrow!
Now for the lady behind The Scarlet Dagger, here is Krystle Jones!
Tell us about yourself.
I've been involved in the arts my entire life. When I was little, my dream was to be an animator. I took art classes, was active in my school's art club (all the way through high school), and drew comics in my free time. But art – nor writing – was what I ended up majoring in. I graduated a few months ago with a Masters in Flute, an instrument I'm die-hard passionate about. I still teach and play, writing either of a morning or at night, when my creativity seems to be at its peak. Let's see. I also got engaged this past July to a wonderful man I plan on marrying in the Summer. =)
How did you start your career as a writer?
I've been writing stories my whole life, though I never really considered going after it as a career until about 2 years ago. When I was really young, I'd scribble out these little stories on notepad paper, draw some illustrations, and staple them all together to make "a real book". In middle school, I was actively involved in some play-by-email rpg's, where each person gets to play a character and write from that character's perspective. Each member of the cast submits entries each week to help move the story along. It was a lot of fun!
As for a career, I had a dream one night about a blonde girl trying to get out of a burning castle. I didn't know what her name was, but I knew she was a princess. I thought that was interesting, and it certainly wouldn't have been the first vivid dream I've had, so I didn't think anything of it.
Until I dreamed it again, and again, and again.
The idea wouldn't go away! Finally, I resorted to writing the ideas that came in the dream down on paper, which became the notes for my first novel, a YA epic fantasy called Veiled Innocence. I had so much fun – despite the setbacks with that book – that I committed to learning everything I could about writing fiction and reading everything I could get my hands on in the YA market.
Where did you get the idea for The Scarlet Dagger (The Red Sector Chronicles series) from?
The Scarlet Dagger was actually the book I was never going to write. I told myself, "There are too many vampire books on the market as is, you should just leave it alone." Then, like many of my stories first appear, a character popped into my head one day at work (I have ample time for day dreaming). I knew her personality, and just couldn't get the idea out of my head that she was supposed to be a vampire hunter. So, with no intention of writing an actual book, I sat down and "played around" with the idea one afternoon, trying to come up ways to make the book different from the slew of other vampire books out there. I suppose what I ended up with was borrowing several ideas and creating this clusterthing of different genres (paranormal romance, urban fantasy, dystopian). The more I figured out about the book, the more I wanted to write it. So I did.
I recently wrote an article about my love for bad-ass heroines which is why I love Sloane. She is tough, smart, sassy, yet perfectly flawed. Which character is your favorite and why?
Hmmm… I'm not really sure I have a favorite in this series. Sloane's perspective was fun to write, but I honestly wouldn't be able to peg any of them as an absolute preference over the others.
Which character are you most like?
I'm probably a weird mixture of Sloane and Rook. Depending on who I'm around, I tend to behave a little differently. Like, for example, I have an odd sense of humor that's borderline dry and a little quirky. If I'm around strangers, I'll be more soft spoken and reserved in my opinions, watching them and seeing if they're just as quirky as me. The more I get to know them, the more I open up. That's when Sloane's traits of being a little bolder and more passionate about certain things come to the front. I will say, though, I've never had a problem being "shy" when it comes to performing on the flute or writing. In real life, I share the aspect with Rook in that we both prefer to kind of be "in the background."
Who are some of your favorite authors?
I love the world building and colorful writing styles of Julie Kagawa (Iron Fey series) and Samantha Young (Smokeless Fire). I love the easy grace of Sarra Cannon's (PeachvilleRichelle Mead (Succubus series, Vampire Academy series) is a favorite of mine. Another author with a voice I really like is Kait Nolan (Red). I also love Melissa Marr's (Wicked Lovely series) dark, delicious plots. Kristin Cashore's (Graceling) prose is simple and elegant, and I also adore Heather Dixon's (Entwined) beautiful writing. I've also read almost everything by Robin McKinley (Beauty, The Outlaws of Sherwood, The Blue Sword, The Hero and the Crown, Sunshine). I think she's brilliant.
What books are you reading now?
I tend to read multiple books at once, though I try to limit it to no more than 2 or 3. Right now, I'm deep into the finale of one of my favorite YA series, The Iron Knight by Julie Kagawa. From all the buzz about Clockwork Prince, I've also finally picked up City of Bones by Cassandra Clare. (I know, I'm late to the game. Don't judge me! haha)
Are we going to see more of the mortals, specifically Leo?
Oh, yes. Leo is going to have a lot more "page time" in Dark Horizons. McGuinness is also going to be making a reappearance, as well as Sloane's mother. There will also be another Black Cross Guild hunter, a girl named Arika, who will become a bit of a PITA for Sloane.
There were so many twists and turns and I could never guess what was going to happen next I loved it! How did you keep track of everything without giving the secrets away?
A really solid outline. I can't stress to new writers enough how important it is to thoroughly outline your story before writing it. It'll save you a ton of time in the revision process, as well as allowing you to "test drive" your concept and spot any potential conflicts before committing to a story arc. (Pantsters, I know you're "booing" me for that!)
Are you working on any other projects we should watch out for?
Right now, my main project is wrapping up my gothic fairy tale retelling of Snow White, A White So Red. Snow White will be my first "stand alone". I've done quite a few revisions, so it'll hopefully be out early January so I can get to work again on finalizing my outline for Dark Horizons.
What was the hardest part of writing your book?
Committing to it every day, and not letting frustrations or life get in the way, which is hard sometimes. Editing is always a hard process for me. I have to go through something at least 3 or 4 times myself, in multiple media (.mobi, MSWord, print) before letting anyone else read it. Then it's another round of revisions after CP's and betas give me their feedback, and another read-through after that to make sure it all makes sense and flows together. I can be impatient sometimes, especially in that home stretch of "almost-done-but-not-quite-there." That's the hardest part for me, I think.
When is book two coming out?!
Sadly, I don't think it'll be January, like I had planned. It's looking a bit more like April. I work a full time job outside of writing – which I hope to make my FT job this year! – and I've had a few other things spring up recently that are demanding more of my time. It's just the way things are right now. But, I am about halfway through writing my outline for book two, with the hopes of having it finalized by the time I publish Snow White so I can immediately start working on it. I do plan on giving updates on the book's progress on Facebook and Twitter, and I always keep a progress meter on my blog, if readers are interested (right hand sidebar). And, I plan on inviting some other YA authors for some guest posts to promote some books I've read recently that I've absolutely been blown away by that I think my readers will enjoy. While you're waiting for Dark Horizons, I can certainly recommend awesome reading material. =)
What do you do when you are not writing?
I play the flute and the piccolo. Of course, I love reading, as well as watching movies. I catch up with my online comics, The Way to Your Heart by Emily Muto, The Dreamer by Lora Innes, and Red String by Gina Biggs. All of these comics can be found online and read for free! (Though donating or buying the paperbacks is encouraged.) And, of course, I spend time with my fiance. =)
If you could be a supernatural being or possess any power, what would it be?
I'd like Nightcrawler's ability of winking in and out of places, being able to appear anywhere. I'm constantly running "a little late". This power would be awesome because 1) I could maximize my time; and 2) well, I'd never be late.
Time control would be cool, too, like that guy from Heroes.
Totally random question: what is your favorite pizza topping?
Probably peppers. I love the taste of them, so long as they're not too hot, ahaha. I've never had much of an appetite for burn-your-tongue-off spicy things.
Tell the readers what to expect when reading one of your books
.
Expect something darker, with a mix of a little bit of everything: romance, mystery, suspense, drama, angst, humor, and maybe even a pinch of horror. There will always be fantasy present, whether it be urban or epic. I have somewhat eclectic tastes when it comes to "entertainment" (music, movies, books), and I think my varied tastes reflects itself in my writing. I write to entertain, to give readers a place they can go for a few hours to escape from their worries. At least, that's why I read, so I try to reciprocate.
Do you have anything specific that you want to say to your readers?
Thank you for supporting us authors, and giving us the gift of your time. I mean that with my whole heart.
Putting yourself out there is a very scary thing. As an author, you work and work and work on something, tear it apart in revisions, publish it, and hope the world likes it before you do it all over again. It lights a little fire inside me whenever someone tells me they enjoyed my stories, and it gives me strength to keep fighting the obstacles thrown my way and keep trying because there's someone out there who wants to read my stories. You readers are a precious gift, and specifically, I can't thank you enough for taking a chance on my work, and the work of any debut author. Thank you for giving us a chance, and allowing us to do what we love to do: entertain.
I'm active on both Twitter, Facebook, and Goodreads, so if you're on any of those sites, I invite you to drop by my profile and say "hi!" Same goes for my blog. I like discussing things with readers and other writers, so if you have anything to you'd like to say about any of my posts, please don't hesitate in commenting! Lastly – and I promise I'll shut up – I have an email newsletter I send out infrequently when I have a new release, contest, giveaway, or some other special offer. If you want to be notified when Dark Horizons goes on sale, I invite you to please consider signing up. You can learn more about it on my website.
Thank you so much, Evie, for having me!
Thank you Krystle for stopping by - she is AMAZING! The Scarlet Dagger is a must-read book that will glued to the pages from beginning to end. Do you want to read it? Good, cause it is GIVEAWAY TIME!!
a Rafflecopter giveaway