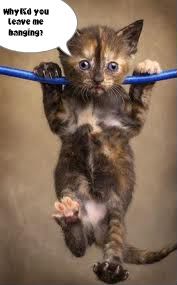 Hey all, it's Evie the Paromantasy addict here again with my take on cliffhangers!
There are a ton of different opinions on cliffhangers. Some hate it, some love it and I personally hate to love it. Yes, I am a glutton for punishment. Along with my crazy obsession for
bad boys and/or underdogs
in a book - you know, the one that the heroine never picks - I also love cliffhangers even as I curse at them. Why? I love the anticipation it gives me. I play a thousand different scenarios of what could happen in the next book. If it is a great author, I am usually wrong and if I'm not, then word to author - you are too predictable. Of course I could just be a genius..yeah - I'll like that option way better.
Cliffhangers give me something to look forward to, to dream about, a reason to stalk the author and try to get any bit of information I could to find out what could happen. Case in point: Vampire Academy. Who wasn't logging into YouTube to view snippets of quotes before the release of
Last Sacrifice
? Who didn't stalk her blog, her twitter, her Facebook...damn I sound creepy. Anyway, you get the point.
I love the anticipation, the big buildup to a book. Of course I am like a Fury when the book doesn't live up to it's predecessors. I scream, shake my head, throw the book - not really, I'm just get disappointed. It's like lusting after a lover just to find out at the final moment he's a eunuch.
Point is, I love to hate cliffhangers! To all the authors reading this post, I have three words for you:
Bring It On!
What is your take on cliffhangers? Let's here it. You can also cast your vote on the poll to the right!
Until next time!
Evie