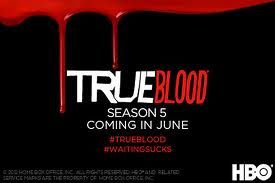 It's April, and that means we are that much closer to the June premiere of True Blood Season 5. What better way to celebrate then with some spoilers! So here is a list of spoilers including the new members of the Authority the will make Bill and Eric's undead lives a living hell.
Meet the Authority

My happy dance spoiler is that Carolyn Hennessy, who I'm a fan of from my General Hospital lovin' days is cast as

a new vamp in the Authority, Rosalyn Harris

.

Eric has a new sister in town by the name of Nora (Lucy Griffiths) and she is part of the authority.

Peter Mensah will join True Blood as Kibwe, Chancellor for the Authority

Jacob Hopkins will play Alexander

- a sadistic vamp chancellor of the Authority turned at 9 – sounds like fun!

Christopher Heyerdahl will portray Dieter Braun, an ancient, powerful vampire who plays a large part in the intelligence of the Authority and especially enjoys enhanced interrogation. Recognize him? He also played Marcus in the Twilight Saga.
Valentina Cervi is joining True Blood as Salome – an ancient vampire seductress with possible links to Russell
A new Faerie comes to Bon Temps - Camilla Luddington has been cast as faerie Claudette.
Giles Matthey will be playing Claude – Sookie's Fae Cousin.
Linda Purl is cast as Barbara Pelt

(Debbie's mother)
Speakinig of wolves, we'll be meeting a lot of them including Alcide's dad and Rikki – a beautiful were who wants to know what happened to Marcus.

She's not the only one – new were's Danielle and Kenneth are also asking questions. That sounds like trouble...
We'll also meet Holly's sons, Buddy (a new

"buddy" of Hoyt's – get it.lol) and Hayes (an authority vamp, and Nora the double agent.
What is the scoop on our favorite True Blood Characters
Our favorite bad guy, Russell Edgington (Denis O'Hare), is back.
Alcide says goodbye to Mr. Nice Guy
Mr. Vampire hating preacher Steve Newlin is back...as a vampire!
Flashback Fun - We'll see a flashback to when Eric turned Pam into a vampire.
Eric and Bill must *cough* rely on each other after killing Nan. Talk about marked men.
Scott Foley will come back Patrick Devins. He will play a big role in the whole "Terry might be bananas and Arlene is seeing ghost and freaking out" story...for lack of a better description

J
Tara will return…but as what??
Sookie goes for independence, but a wolf is not far behind

Jessica may be too much to handle for womanizer Jason.

A couple wants Jessica and Jason...in their bedroom.

Say hello to...Bill's daughter?

There will be a wedding in Bon Temps
I also found so True Blood Spoier pics courtesy of Hollywood Life. Check them out here
That's all for now. I cannot wait to spen my Sunday's with Eric Northman once more. Who are you most excited to see in the 5th season of True Blood. Which love triangle or crazy story line are you anticipating?