Felicity Heaton turns up the heat with her new un-put-downable read: Hunger!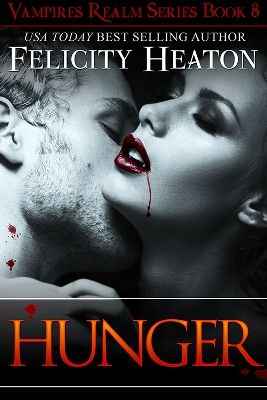 Title: Hunger
Series: Vampire Realm Series, book 8 (can be read out of order)
Author: Felicity Heaton
Genre: Adult Paranormal Romance
Synopsis
Betrayed by one of her own and turned into a vampire, hunter Eve is consumed by her hunger for vengeance and has spent five years surviving hell, driven to take the life of the man she once loved. But just as she is about to close in on the hunter-turned-vampire, an event is set in motion that threatens to see him slip beyond her grasp forever—the leader of her bloodline has sent an escort to bring her to the family's mansion. To a nest of the very creatures she once hunted and loathes.
A vampire assassin hardened by centuries of service, Tor is a man of discipline and loyalty, never straying from his mission or the rules set out for him, and has purged all his weaknesses, including his emotions.
But the moment he meets the broken, fiery female he is to escort to Oslo, something dangerous awakens in him, something possessive and powerful, and when he is pulled into a deadly game of cat and mouse with the man who betrayed her, Tor discovers he will do anything to protect the woman slowly claiming his heart and give her the vengeance she desires—even break all the rules.
Can Eve embrace her new vampire nature in order to have her revenge and find a reason to live again in Tor? Can Tor and Eve stop the man who betrayed her and the deaths of thousands of innocents? Or will he succeed in creating a new army of hybrid vampires who will rise up against the purebloods?
My Review
You are going to need a cold shower, heart medication and some serious yoga to calm down after reading this action-packed, steamy, romance-filled thriller of a book!
Felicity Heaton has worked her magic once again with Hunger. Her winning combo of a kick-ass heroine, a hardened warrior and non-stop action will leave you hungry for more.
Eve is a fighter who is now the very creature she once hunted - a vampire. The only thing keeping her alive, when all she wants is a stake in the heart, is her need for revenge...that is until Tor walks into the room.
Tor has two goals in life - to follow orders when completing his missions and to survive. He doesn't need emotions clouding up his judgment or deterring him from his duties...until he sets eyes on Eve.
Eve and hor are both warriors and Tor knows all to well about revenge. On his path to completing his mission and on her way to getting revenge, they realize the very thing they are both missing are found in each other. Together they are unstoppable...or are they?
How much is Eve willing to lose to get revenge? Will Tor be able to help Eve or will he lose her and himself in the process?
I could not tear myself away from Hunger. The non-stop action had me at the edge of my seat. The growing, and very steamy, romance was electric. Lastly, the characters and the world-building made me feel like I knew each character personally and that I was just another person going along for the ride.
Eve is now a vampire struggling to come to terms with the fact that she is the very creature she once hunted. Tor is a hunter shunned by the elite in the vampire community. They are both warriors, tortured souls and when they find each other, they find the missing puzzle piece that each was missing in their lives.
With each page read, another layer of both Eve and Tor is pulled back, and you discover a little more about each of them. They both desire to be strong and courageous, but each is vulnerable in their own way, and I love it.
Eve and Tor are both so complex and believable. They are not like other couples I have read about in paranormal romance books. Unlike most characters, they are
not
polar opposites. They are both warriors driven by purpose and when they come together, whether on the battle field or in the bedroom, they are just
explosive
.
If you are looking for page-turner filled with hot romance, kick-ass action and non-stop danger, then Hunger by Felicity Heaton is just what Dr. Evie prescribes!
This book is rated 4.5 Fangs!




Which Felicity Heaton book is your fave?