Katie Salidas Takeover continues with my review of Dissension! Remember to enter the giveaway for your chance to win one of her amazing books!!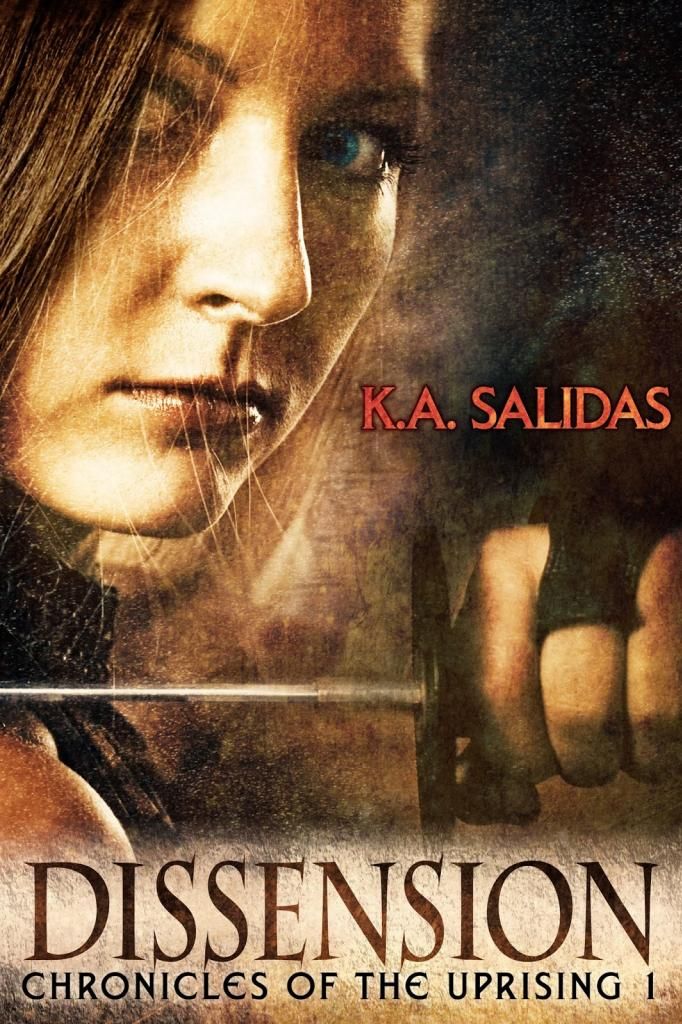 Title: Dissension
Series: Chronicles of the Uprising, book 1
Author: Katie (K.A) Salidas
Genre: Dystopian Fantasy
Warning: Some strong language, gore and sexual content
Official Synopsis:
The great cataclysm wiped almost all life from the face of planet Earth, but tiny pockets of survivors crawled from the ashes, with only one thought: survival, at any cost. But not all survivors were human.
In the dark, militant society that has risen in the aftermath, vampires, once thought to be mythical, have been assimilated and enslaved. Used for blood sport their lives are allowed to continue only for the entertainment of the masses. Reviled as savages, they are destined to serve out their immortal lives in the arena, as gladiators. And there is no greater gladiator than Mira: undefeated, uncompromising...and seemingly unbreakable. When an escape attempt leads Mira into the path of Lucian Stavros, the city's Regent, her destiny is changed forever.
Lucian, raised in a culture which both reviles and celebrates the savagery and inhumanity of vampires, finds Mira as intriguing as she is brash. An impulsive decision - to become Mira's patron – changes more than just Lucian's perception about vampire kind. The course of his life is altered in ways he could never have predicted – a life that is suddenly as expendable as hers.
Can Mira prove to Lucian that all is not as it seems? Can Lucian escape centuries of lies, bloodshed, and propaganda to see the truth? Or will the supreme power of the human overlords destroy them both?
My Review
When the world as we know it ends, the real monsters of this world are revealed and it's sure not the vampires.
This book is a page-turner filled with action, mystery, and violence, as we follow Mira on her quest for survival. With each page brings renewed hope, new horrors and non-stop twists and turns that explodes with an ending you never saw coming. Katie Salidas, you have earned yourself a new fan.
Dissension is in one word...Un-put-downable! I read this book in one sitting and have started the second book of the series.
Mira is a vampire imprisoned and used as a warrior by the humans. Each week she must fight and kill her own kind to feed the blood-thirty humans need for violence as she performs in the gladiator ring. Funny, weren't her kind the supposed blood thirsty ones? She performs and is the undefeated champion, meaning she has killed countless of her fellow vampires. Her only other alternative is death and death is not an option. Mira is a survivor. A survivor hoping to flee the prison and be free. She knows first hand the real monsters are not the vampires, but the humans. Savages that torture her kind, and makes her kill her own kind for sport. She continues to fight hoping that one day she could escape and be free once again. She never thought a human just might be her saving grace.
Lucien is an Elite taught that vampires are killing machines that threaten humanity. When he spots a vampire showing mercy to a human, when that human only wanted her death, he realizes that the humans were terribly wrong. He decides to become her patron to learn more about her and her kind. What he didn't realize was how much she was going to turn his world upside down.
Together they learn that what they thought they knew about each other, and their species, was wrong... but is that enough? Can Mira really trust Lucien or is he just using her for a purpose far more sinister then she could ever imagine? Is he her saving grace or the one man who will end her kind once and for all?
If you were in the room with me right now, you would hear me squealing. This book is amazing. Katie Salidas world and character building are impeccable. I was emotionally connected to the characters. I could see the horrors through their eyes and I literally had to stop reading a few times, scared at what I might find on the next page.
It is an edge of your seat thrill ride from the very first page until the last.
Mira is tough-as-nails with a soft spot that she conceals pretty well. Being an undefeated vampire warrior and prisoner to the humans does that to a girl. She knows showing weakness can get you killed, and if she is anything, she is a survivor. You can't help but root for her every step of the way as she struggles to stay alive, find a way out and help her kind once and for all. She also is a bad-ass with a sarcastic mouth, and who doesn't love that!
Lucien is a man of mystery. You want him to be as kind-hearted as he seems, especially since he is hot....that always helps :-) As he tries to prove himself to Mira, I was left as confused as she was. Is he really a good guy? The constant twists and turns will leave you racing through the pages to find the answer to that question and many more.
As you might have guessed, I love this book. Check back later in the week for my review of book 2 of the series, Complication!
This book is rated 5 Fangs:





Giveaway Time!!
a Rafflecopter giveaway