It's Peanut Butter, Jelly Time; Follow Friday Social Time. Yes, I am singing this as I type. Happy Friday everyone! So glad to actually be apart of Parajunkee's Follow Friday Blog Hop! Now lets get hopping. :)
Wow - this is my first FF of the year and I am so excited to be back! Want to join the fun and network with other bloggers? Here are the rules for FF:
RULES To join the fun and make new book blogger friends, just follow these simple rules:
(Required) Follow our Featured Bloggers

Put your Blog name & URL in the Linky thing. You can also grab the code if you would like to insert it into your posts.

Grab the button up there and place it in a post, this post is for people to find a place to say "hi" in your comments and that they are now following you.

If you are using WordPress or another CMS that doesn't have GFC (Google Friends Connect) state in your posts how you would like to be followed •Follow Follow Follow as many as you can, as many as you want, or just follow a few. The whole point is to make new friends and find new blogs. Also, don't just follow, comment and say hi. Another blogger might not know you are a new follower if you don't say "HI"

If someone comments and says they are following you, be a dear and follow back. Spread the Love…and the followers

If you're new to the follow Friday hop, comment and let me know, so I can stop by and check out your blog!
This weeks Question: Tell us about one of your hobbies that is NOT reading.
Hmmm, let me think. I love to write, but I somehow like to group that with reading. Many bloggers are aspiring authors, or started out blogging, so that just seems like a cop-out. So I'm going to go with my love of at-home fitness. I have completed Turbo Jam and Turbo Fire by
Chalene Johnson
. I also completed Insanity and am in Month 2 of T25 by
Shaun T
. Disclaimer - I am in no way affiliated with Beachbody. I just love their workouts, especially if Shaun T is the trainer!
I also mix in some
Jackie Warner
Power Circuit Training for good measure. I have been losing weight and focusing on getting stronger and healthier. Here is a progress pic of me. I am about to get my ass handed to me yet again, but "I'm smiling because I love it". If you have ever done a
Shaun T
workout, you will recognize that quote.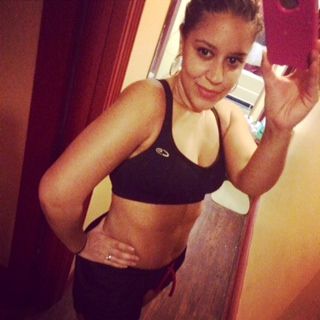 For good measure and because I love animals, especially my fur babies, here is a pic of my other hobby...playing with my pets :-)
What are your hobbies? Can't wait to read all about them.